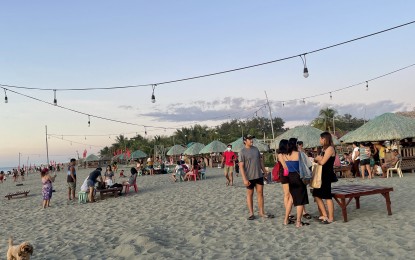 LAOAG CITY – Residents in the sunshine city of Laoag are bracing for this year's hottest day so far with the heat index forecast to hit around 44 to 48 degrees Celsius this week.
To avoid diseases such as heat stroke, skin diseases, and other common health problems associated with the dry season, the state-run Mariano Marcos Memorial Hospital and Medical Center has reminded the public to be extra cautious and watch out for signs and symptoms of heat stroke.
"Be careful in the extreme heat today. It can cause heat stroke so remember the symptoms to avoid or give first aid immediately if you see someone experiencing it," read a public health advisory on Friday.
To minimize heat stress, Anthony Dumlao, a village councilor in Sarrat, Ilocos Norte, said in another interview that he avoids going out between 10 a.m. and 3 p.m. while staying hydrated the whole day by drinking plenty of water.
Agnes Bagcal from Santa Angela village in this city also shared that eating food with high water content, like watermelon, is her way of keeping her and her family hydrated aside from always bringing her umbrella and wearing light and comfortable clothing.
From heat cramps to heat exhaustion, health experts said that heat stroke can happen if not attentively noticed.
If the body fails to recover from heat exhaustion, heat stroke will manifest through an increased body temperature of 104 to 105 degrees Fahrenheit (41˚C), flushed skin, fainting, dizziness, and weakness. Other signs include rapid heartbeat rate, convulsion, and unconsciousness.
Meanwhile, grass fires have been prevalent in the province because of the dry season.
"Fire can happen even with just a little friction," warned the Bureau of Fire and Protection (BFP).
From January to March this year, the BFP recorded a total of 103 fire incidents, more than the 42 logged in the same period last year.
Of the 103 fire incidents, most or 71 incidents were grassfires and forest fires. (PNA)