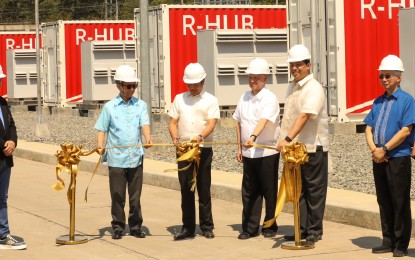 MANILA – President Ferdinand R. Marcos Jr. on Friday said the Battery Energy Storage System (BESS) would become a crucial part of the government formula toward a more energy-secure Philippines.
During the inauguration of the San Miguel Corporation's (SMC) BESS in Limay, Bataan, Marcos said the energy storage project would help solve the country's energy security problems because it is promising, novel, and innovative.
"This technology is carving a distinct path towards a more energy-secure and sustainable future for the country. It is clean, it is zero-emission, zero-water extraction, no noise pollution," Marcos said.
"Given the increasing generation of renewable energy, it is vital then that we advance and incorporate Energy Storage Systems, or ESS, in our overall energy infrastructure," he added.
Marcos said the BESS also holds great potential, not just in terms of generating sufficient, reliable and clean energy that will increase energy affordability, but also in terms of providing "green jobs".
The BESS is the first of its kind in the Philippines and one of the largest integrated grid-scale battery energy storage projects in the world.
The President commended SMC for introducing a storage component into the overall energy infrastructure that will provide the crucial support mechanism to optimize these resources, making them more efficient and reliable.
"With this technology in place, storage of power is made possible. Power could be stored when not needed or in times of oversupply, and released whenever required or when there is undersupply," he said.
Ramon S. Ang, SMC chief executive officer, said BESS can have a transformative impact on the Philippine economy and the lives of Filipinos.
Strategically located in various parts of the country, Ang said BESS facilities can instantly increase peak systems supply to meet the country's post-pandemic growing energy demand.
Ang explained that with a significant portion of peak supply provided by BESS, existing base load power plants can run continuously and operate more efficiently, resorting to lower electricity rates for Filipino consumers.
"They can store excess energy from traditional and renewable energy during low demand and release it back to the grid when demand increase or peaking," he said.
Ang said the solution that the country needs to help address its most pressing energy concern is already at its doorstep, noting technology represents a major step towards meeting the Philippine socio-economic goal sustainably.
Legislation, more investments eyed to support BESS
The President said the Department of Energy (DOE) is currently working on an improved and expanded version of the ESS policy.
The current legislation and rules have to catch up with the technology, he added.
Marcos also assured investors in the energy sector that his administration remains committed to extending all the support mechanisms to ensure a genuine partnership in a mutually beneficial relationship.
"We will improve the policy and regulatory framework for the renewable energy (RE) industry, especially for the ESS technology, to encourage the further development of our fledgling renewables industry," he said.
He said the government is aiming to increase the share of renewables in the country's total generation mix, as he encouraged more investments that will add to the renewable supply in the country.
"We will streamline and harmonize the regulatory framework, at the national and local levels, to ensure ease of doing business, to take down unnecessary regulatory burdens, and this is all part of our agenda to improve bureaucratic efficiency and sound fiscal management for a much better, more streamlined, more efficient system," he said.
Marcos said his administration will continue partnering with the SMC, noting the company's other BESS projects in the pipeline, which account for 95 percent of Board of Investments-approved projects, with 2,000 megawatts (MW) of total capacity distributed across the country.
With the commercial operations of approximately 1,000 MW of BESS facilities across 32 locations in the Philippines, San Miguel Global Power now ushers in a new era for the Philippine energy industry. (PNA)