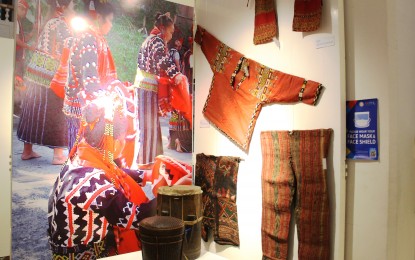 MANILA – Tarlac has offered to temporarily house Nayong Pilipino Foundation's (NPF) over 3,000 ethnographic artifacts representing the Philippines' history and culture.
Tarlac Governor Susan Yap said the province made the offer after learning that the state-run foundation has no permanent museum to display its vast collection.
Most of the time, the artifacts are stored at NPF's administrative office in Intramuros, Manila when the foundation is not running its "traveling museum".
"Nayong Pilipino used to be in Manila and then they were in Clark and right now, they are housed in a 70-square-meter place so I offered one of our buildings here in Tarlac temporarily if they need a home," Yap said In an interview on Thursday.
If approved by the Department of Tourism (DOT), the mother agency of the NPF, Yap said Tarlac will spare its newly-renovated guest house at no cost to NPF.
"(If it pushes through), it's going to be on a temporary basis, whether it's going to be for the next three years or five years until they have a permanent home," she said.
DOT Undersecretary Shereen Gail Pamintuan, in a separate interview, said the DOT is currently studying the proposal.
"It's something that we are very open to, considering that the NPF does not have enough storage for all of these artifacts and we also want to share these precious artifacts to our kababayan (countrymen)," she told reporters.
"If we could also put it here in the north, it's something that we're very open to," she added.
READ: Nayong Pilipino awaits funds to build green park in Bay City
Gertie Duran-Batocabe, NPF executive director, welcomed the offer and extended gratitude to the provincial government.
"If we do that, we will make sure it will be done legally and appropriately because there are laws when you move artifacts but we welcome it and if that is the decision of our mother agency, the DOT, then we'd be happy to move to Tarlac," she said.
NPF's collection include artifacts from indigenous peoples nationwide, ranging from intricate beaded jewelry to striking weaponry for hunting and warfare to ritualistic artifacts.
It also includes musical instruments, vessels, funerary objects, and textiles.
The NPF and the provincial government kicked off the "Nayon sa Diwa: Bringing Cultural Communities Closer to the Heart" exhibit at the museum on Thursday, the Foundation's first exhibit outside Metro Manila.
The public may visit the exhibit for free from 9 a.m. to 4 p.m., Tuesday to Saturday, until the last week of May. (PNA)