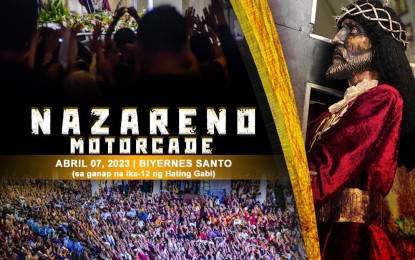 MANILA -- The Quiapo Church will be holding a motorcade and parade the image of the Black Nazarene on April 7, church officials announced Friday.
According to Fr. Earl Valdez of the Minor Basilica of the Black Nazarene, the religious event will be held on Good Friday at 12:01 am.
Asked if they already have the route of the motorcade, he said this will still be discussed, "but surely within the boundaries allowed by the local government under the jurisdiction of Quiapo Church."
The Quiapo Church official said they are adding more security personnel in preparation for the commemoration of Holy Week, which will start on April 2, Palm Sunday.
"We always have increased security during Holy Week even though our attendees are not the same as Nazareno 2023," he said in a message to reporters.
"Devotees will be there but not as big as our crowds during Nazareno 2023. The increase is also expected during the motorcade, but the Church and government are also preparing for that," Valdez added.
At the same time, he said they are looking to Traslacion 2024 but has to carefully plan the event.
"The Traslacion might make a comeback, but we will improve it based on the lessons from the Nazareno 2023," he said.
The Traslacion is the procession of the image of the Black Nazarene from Quirino Grandstand in Luneta to Quiapo Church along Quezon Boulevard, Manila.
The religious activity had been canceled since 2021 due to the Covid-19 pandemic. (PNA)