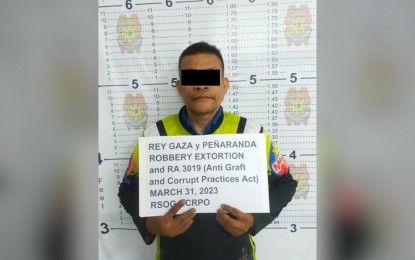 MANILA – Police operatives arrested a traffic enforcer of the Metropolitan Manila Development Authority (MMDA) during an entrapment operation in Port Area, Manila on Friday after an extortion complaint filed by a trucking company.
In a press statement, the National Capital Region Police Office said Rey Gaza, 53, MMDA Traffic Enforcer 3, was nabbed inside Room No. 227 Champ Building, Port Area, Manila at 2:40 p.m. Friday.
Police seized two pieces of marked PHP1,000 and boodle money; a .45 caliber pistol; a magazine with live ammunition; IDs and permit to carry firearms; and personal cash amounting to PHP1,300 in different denominations from the suspect.
The operation stemmed from the complaint of the owner of a trucking company, whose name was not disclosed.
The complainant reported that Gaza and his cohorts, identified as one Ben Colete and a certain Almoguer, have been collecting "payola" money amounting to PHP10,000 every month since 2019 to avoid inconvenience and for the smooth operation of his trucking and transport service.
Charges of robbery extortion and violation of the Anti-Graft and Corrupt Practices Act await the suspect. (PNA)