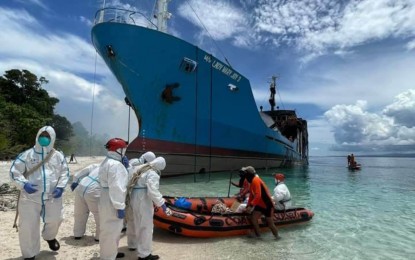 ZAMBOANGA CITY – The search and retrieval operations on the wreckage of the ill-fated M/V Lady Mary Joy 3 in the waters off Baluk-Baluk Island, Hadji Muhtamad, Basilan, ended Saturday, an official said.
The Bureau of Fire Protection (BFP) and Basilan Provincial Disaster Risk Reduction and Management Office said they concluded the search and retrieval operations since they have not found any more cadavers.
"They have not found any cadaver, so they decided to conclude the search and retrieval operation to give way to the other team to inspect the wreckage of the vessel," Zamboanga City 1st district Rep. Khmer Olaso said in an interview
The Philippine Coast Guard (PCG) said seven more people remained missing since the M/V Lady Mary Joy caught fire Wednesday night, which led to the death of 29 people.
The ship was reportedly carrying 252 people – 205 passengers, 35 crewmen, eight Army soldiers and four PCG personnel -- at the time of the incident.
Meanwhile, lawyer Hahs Ibrahim, spokesman of Aleson Shipping Lines which owns M/V Lady Mary Joy, assured that the victims' families and those who survived will receive reparation, whether their names were in the ship's manifest or not.
Ibrahim said there were only 197 listed passengers while others may have secured their tickets while already on board.
"As long as the vessel can still accommodate, since it can hold more than 400 passengers, we allow them to secure tickets on board. In that case, there seemed to be a bigger number that was rescued and recovered more than what was listed in the manifest," Ibrahim said.
Families of the fatalities were given preliminary financial assistance of PHP25,000 each.
Those who survived received PHP3,000 each.
"But it is not limited to that since all of them have their respective insurance with our company every time they secure their tickets. They will be given a maximum of PHP10,000 for their medical needs should they need them," he said.
Ibrahim said they are now coordinating with the PCG and other agencies in identifying those who died in the tragedy. (PNA)