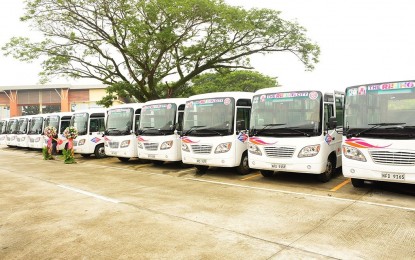 MANILA – Officials and members of the Novaliches-Balintawak-Blumentritt Transport Cooperative (NobablumTC) based in North Caloocan City are waiting for the release of the second batch of 23 modernized jeepneys they have ordered under the national government's Public Utility Vehicle Modernization Program (PUVMP).
Emily Pilotos, NobablumTC chairperson, told the Philippine News Agency (PNA) that once the additional units become available, these will be deployed on the Novaliches-Balintawak-Rizal Avenue (Manila) route and vice versa by way of Quirino Highway and A. Bonifacio Avenue.
Pilotos said the initial 15 modern units ordered by the cooperative and financed by the Development Bank of the Philippines (DBP) began operating on the same route in July 2021.
"The favorable reaction and patronage by daily commuters of the airconditioned modernized jeepneys prompted us to apply for a second loan with DBP for an additional 23 units," she said in an interview.
At the same time, she disagreed with the claim of some operators and drivers of traditional public utility jeepneys (PUJs) that the government requirement for them to consolidate and join a cooperative is counterproductive and unprofitable.
NobablumTC was organized in 2018 and registered with the Caloocan Cooperative Development and Coordinating Division (CCDCD).
Its members include PUJ operators with Certificates of Public Convenience on the routes Novaliches-Balintawak-Rizal Avenue and Lagro-Novaliches-Rizal Avenue, among others.
The Department of Transportation (DOTr) launched the PUVMP in 2017 under the leadership of former president Rodrigo Duterte to align the Philippine public transport with global standards. That is, safe, reliable, convenient, and environmentally sustainable.
The Land Transportation Franchising and Regulatory Commission is tasked to implement the PUVMP.
Traditional PUJs have until Dec. 31 to consolidate and form a cooperative if they want to continue plying their routes.
DOTr Secretary Jaime Bautista has reiterated the need to modernize PUV.

He said the project will strengthen the CASA (convenient, accessible, safe and secure, and affordable) program in the transport sector and generate more jobs across the sector – mechanics, dispatchers, and administrative staff, among others.

"The modernization program will lead to more organized groups with efficient operations. It will also end the boundary system allowing drivers to take home more earnings within a more decent number of working hours," he said in previous interviews.
Under the modernization program, all jeepney engines should at least be Euro-4 and PNS- (Philippine National Standards) compliant engines or liquefied petroleum gas-powered, electronic, and hybrid; abd have global positioning system for location tracking, an automated fare collection system, and security cameras. (PNA)