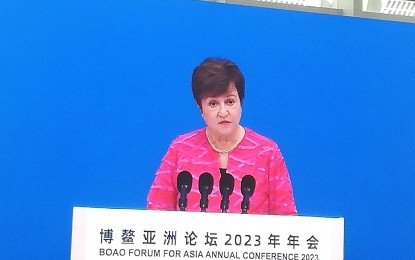 HAINAN, China – The International Monetary Fund (IMF) has urged developed economies to keep helping vulnerable nations, particularly those in "debt stress" due to the impact of the Covid-19 pandemic.
"Cooperation goes hand in hand with solidarity with those in greatest need. Over the past three years, low-income and vulnerable countries and people have been hit especially hard," IMF managing director Kristalina Georgieva said in her remarks at the 2023 Boao Forum for Asia (BFA) in Hainan, China on March 30.
She said 2023 is expected to be another difficult year with global growth falling under 3 percent because of the war in Ukraine and "monetary tightening."
"The global economy has been in choppy waters for quite some time, experiencing shock after shock after shock," she said.
Georgieva said this year's Baoa Forum offers an answer through cooperation and solidary which she described as "twin beacons of light we can rely on to guide us through the challenges that lay ahead."
"Cooperation has already transformed the global economy by deepening trade integration — which has boosted incomes and living standards across the world," she said.
She added that trade integration has been a key ingredient of strong gross domestic product (GDP) growth in Asia for many years.
Georgieva said faster and more efficient global mechanisms are urgently needed to provide debt treatments to those severely hit by economic shocks.
"After all, establishing such mechanisms would provide significant benefits to debtors and creditors alike," she said.
She said China's engagement in the Common Framework and participation in the new Global Sovereign Debt Roundtable is very much welcome.
"Solidarity must also extend to the future generations — and nowhere it matters more that in climate action, especially in Asia with its high population density and exposure to climate shocks," she said.
Asia source of dynamism
For his part, Singapore Prime Minister Lee Hsien Loong said Asia is home to half of the world's population and Asians are increasingly better educated with energy, ideas and dynamism.
"China is one of the biggest economies in the world, its consumer market is expanding, its technology is advancing rapidly and its workforce is increasingly skilled. India, too, is developing steadily with the youthful demographic advantage and Southeast Asia has a growing middle class and is projected collectively to become the fourth largest economy in the world by the end of the decade," he said.
He said the Association of Southeast Asian Nations (ASEAN) is a key regional community that promotes cooperation.
"ASEAN member states are working systematically to strengthen integration among ourselves," he said.
Chinese Premier Li Qiang said Asia is the ballast stone and propeller of the world economy.
Li said Asia continues to deepen cooperation on food, energy, ecological and environmental protection, disaster mitigation, climate change, poverty reduction, and other fields.
"Work together to build a community with a shared future in Asia, build an anchor of world peace and stability, a source of growth power, and a new highland of cooperation, inject more certainty into world peace and development, and strive to create a better future for mankind," Li said.
During the forum's panel discussion, former Philippine president and now House Deputy Speaker Gloria Macapagal-Arroyo said China's mode of modernization is "inclusive growth for all".
She said China's "enlightened attitude towards opening in inclusive manner" provides future for globalization.
Arroyo, a member of the Board of BFA, said China's rise as the world's second largest economy should not be viewed as a threat but as an opportunity for the rest of the world.
"China is like an uncle with many nephews and nieces who looks after the good of the whole family," she said. (PNA)