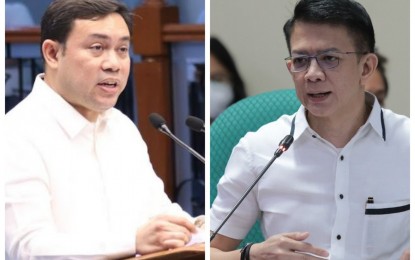 MANILA – Changes have been made in Senate Bill No. (SBN) 2020 or the Maharlika Investment Fund (MIF) Act of 2023 to address various issues and concerns raised by senators and other stakeholders, the sponsor of the measure said on Monday.
One of the major improvements introduced is allowing the Maharlika Investment Corporation to issue bonds as well as provisions detailing the authorized and subscribed capital stocks to be created.
There will also be limitations in relation to investments in real estate, which shall be limited to major capital projects, as endorsed by the National Economic and Development Authority Board to ensure that these are in line with the socio-economic development programs of the government.
"We have made important changes brought about by the committee hearings, public consultations, and technical working groups," Senator Mark Villar, chairperson of the Committee on Banks, Financial Institutions and Currencies, said in a statement.
Other changes are new provisions with the forms of joint ventures and co-investments on the issuance of bonds as well as to the Board of Directors to reflect nine permanent members, instead of the original 15.
The provisions on tax exemptions and exemption from Salary Standardization were also deleted.

Up for interpellation when the Senate resumes in May, Villar assured the MIF bill will undergo further scrutiny.
"We are ready to shed light on the matter and make necessary amendments to further enhance the proposed legislative measure. At the end of the day, we all want a bill that is responsive to the needs of the Filipino people," the lawmaker said.
Senator Francis Escudero also confirmed over the weekend that he already signed the committee report with major amendments, noting that this new version of MIF Bill has better chances of Senate's approval.
"As I stated from the beginning when we started to review the original bill filed by Senator Villar, we will provide a better version. I said then that the Senate counterpart will not be in the same shape, size, color or form because, as it was passed in the House (of Representatives), it clearly will not pass the Senate," Escudero said in a statement on Saturday. (PNA)