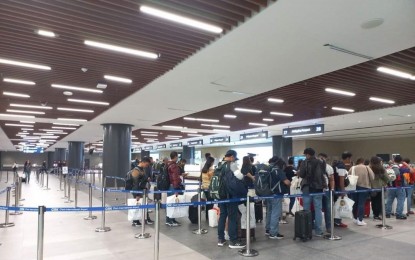 MANILA – The Bureau of Immigration (BI) on Monday said it is on heightened alert and added more personnel amid an influx of travelers for the Holy Week holidays.
"We are on heightened alert this Holy Week, we are all hands on deck because this is what we really consider the peak season. It seems that this is the highlight of our role as immigration officers where many people leave and return," BI spokesperson Dana Sandoval said at the Laging Handa briefing.
To efficiently serve arriving and departing passengers, the BI deployed 155 more officers and 36 others who recently finished their course at the Philippine immigration Academy.
Airport authorities said they expect over a million passengers this week and until Araw ng Kagitingan (Day of Valor) holiday on April 10, the day after Easter.
Sandoval advised travelers to monitor the immigration counters' situation at airports through social media.
"We have been very active also on social media to post immigration traffic updates," she said.
For the first time in three years since the pandemic struck, Filipinos are expected to travel to their hometowns to spend the long Holy Week weekend as travel restrictions have been relaxed.
Meanwhile, Sandoval supported Senator JV Ejercito's push to amend the Philippine Immigration Act to be at par with the current situation.
"It's a 1940s law. Imagine, that was 83 years ago. It was written during the time that there were still no international flights in the country. The law is really outdated, truth be told. And there are a lot of provisions in it that are no longer applicable in modern times. So we fully support this observation," Sandoval said. (PNA)