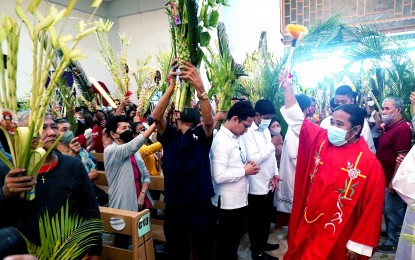 MANILA – Many Filipino Catholics did not have a hard time in fulfilling their penitential obligations during Lent and the Holy Week.
Based on the results of the Veritas Truth Survey (VTS) conducted by Church-run Radio Veritas released on Monday, six in every 10 Filipino who participated in the survey or more than half or 58 percent of the 1,200 respondents were able to fulfill their penitential obligations without difficulties.
They were asked the question, "What penitential obligation during the time of lent and the holy week do you have the most difficulty in fulfilling?"
On the other hand, according to VTS results, 26 percent of the respondents said fasting was the most challenging.
Around 10 percent of them had difficulty in giving alms while going on abstinence and prayer each got 3 percent.
"It means that fulfilling the needed penitential obligations (fasting, abstinence, prayer and alms giving) is not difficult for a Filipino Catholic to do or perform during the Lenten season and Holy Week," said VTS head Bro. Clifford Sorita in a statement.
"It implies that there is adherence in performing all these penitential obligations," he added.
The survey was conducted nationwide gathered responses through a text-based and online data gathering process.
It used a stratified random sampling with a +/- 3 percent margin of error.
"When segmentized by age the difficulties are presented as follows: Teens (18-20 years old) 50 percent for fasting, 6 percent for prayer and 44 percent for no difficulty at all; Young Adults (21-39 years old) 35 percent for fasting, 13 percent for abstinence, 9 percent for alms giving and 43 percent for no difficulty at all," the VTS head said.
"Adults (40-60 years old) 33 percent for fasting, 19 percent for alms giving and 48 percent for no difficulty at all; and finally for Elderly (61 years old and above) 11 percent for alms giving, 5 percent for prayer and 84 percent for no difficulty at all (fasting is not required under this age group)," he added.
Lent is the season of prayer, fasting and almsgiving in preparation of the celebration of the Lord's Resurrection during Easter Sunday, the end of the Holy Week.
For this year, the Holy Week started on April 2, Palm Sunday and will conclude on April 9, Easter Sunday. (PNA)