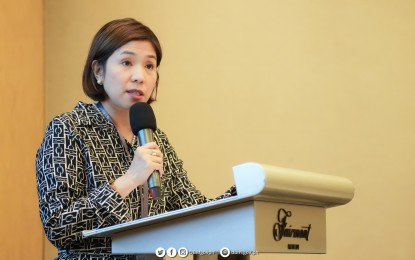 MANILA – Despite differences in faith, Department of Budget and Management (DBM) Secretary Amenah Pangandaman believes that "fraternal love" is the common thread that connects humanity.
Pangandaman, who belongs to the Muslim community, made this remark as the DBM joined the entire Filipino nation in the observance of Holy Week, the most sacred week of the Christian liturgical year.
"In this time of reflection and renewal, we are all reminded of the common thread that connects humanity, whatever our faith: fraternal love, which encourages compassionate action toward all, especially the needy," she said in a statement on Monday.
She also expressed hope that Filipino Christians would find inspiration in the upcoming Easter celebration.
"May the lessons of Holy Week inspire us to endure in faith and may the Easter story of hope serve as an inspiration for all for better days to come even amidst trials and sufferings," she added.
Pangandaman is the first Muslim budget secretary and the only Muslim in the cabinet of President Ferdinand R. Marcos Jr.
Marcos earlier called on Filipinos to "know Jesus Christ more" to become better agents of change as Christians around the world observe the Holy Week.
Catholic Church officials are also urging the faithful who will go on vacation not to forget the true essence of the Holy Week and try to strike a "balance" between "physical relaxation activities" and "spiritual ones."
The Holy Week, which is observed from Palm Sunday until Easter Sunday, is the most sacred period in the liturgical year of Christianity, marked by prayers, penance and reflections.
Starting noon on Holy Wednesday, work in government offices will be suspended to give workers ample time to prepare for the observance of the Holy Week, like those going home to the provinces.
Malacañang earlier declared Maundy Thursday and Good Friday (April 6 and 7) as regular holidays.
The day after Easter Sunday, April 10, is also a non-working holiday in observance of Araw ng Kagitingan (Day of Valor). (PNA)