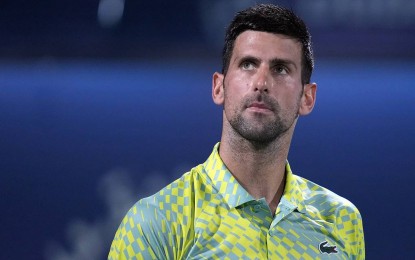 MOSCOW – Serbian tennis star Novak Djokovic has retained the top spot in the new ATP (the Association of Tennis Professionals) Rankings list that was released on Monday, according to the ATP's official website.
Djokovic is the all-time leader in the number of weeks atop the ATP Rankings with 381, beating the record previously held by German tennis player Steffi Graf, who was number one in the WTA Rankings (the Women Tennis Association) for a total of 377 weeks.
Russian tennis star Daniil Medvedev climbed two places in the new edition of the ATP Rankings after reaching his fifth straight final on the ATP circuit this year, a victory at the 2023 Miami Open.
Medvedev, playing under a neutral status under a neutral status at ATP tournaments, defeated Jannik Sinner of Italy 7-5; 6-3 in the 2023 ATP Miami Open championship round on Sunday.
The ATP's top ten list includes No. 1 Djokovic, No. 2 Carlos Alcaraz (Spain), No. 3 Stefanos Tsitsipas (Greece), No. 4 Medvedev, No. 5 Casper Ruud (Norway), No.6 Andrey Rublev (Russian athlete playing under a neutral status like Medvedev), No. 7 Felix Auger-Aliassime (Canada), No. 8 Holger Rune (Denmark), No. 9 Jannick Sinner (Italy) and No. 10 Taylor Fritz (the United States).
Medvedev, 27, was the world No. 1 tennis player for 16 weeks in 2012 and won 2021 US Open in addition to being the winner of 19 ATP tournaments.
"It's the best start of the season I have ever had," Medvedev said after the match against Sinner on Sunday.
Neutral status
On Feb. 28, 2022, the International Olympic Committee (IOC) recommended to to international sports federations to bar athletes from Russia and Belarus from taking part in international tournaments, citing Moscow's special military operation in Ukraine as the reason.
Majority of the global sports federations followed the recommendation and barred the athletes from Russia and Belarus from all international sports tournaments.
The International Tennis Federation (ITF) ruled on March 1, 2022 to suspend the membership of the Russian and Belarusian national tennis federations and also canceled all previously scheduled tennis tournaments in these countries.
On March 14, 2022, the ITF also confirmed its prohibition on the Russian and Belarusian national tennis teams from taking part in the 2022 Davis Cup and the 2022 Billie Jean King Cup.
However, the WTA and the ATP allowed tennis players from Russia and Belarus to continue participating in WTA and ATP tournaments, but under a neutral status. (TASS)