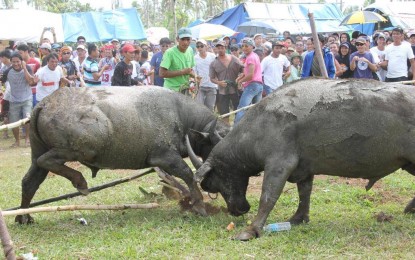 TACLOBAN CITY – The local government unit of Carigara, Leyte is canceling its 400-year Turogpo festival this Black Saturday, citing existing law prohibiting animal cruelty.
In a memorandum issued on Monday, municipal administrator Wenceslao Narido Jr. cited the provisions of "The Animal Welfare Act" that is unlawful to subject animals to torture and maltreatment.
"Under Section 6 of the law, it prohibits the torture of any animal, maltreatment, or neglect, or deprived of adequate care, sustenance or shelter or in use for research or experiments not authorized by the Committee on Animal Welfare," Narido said.
Violators will face imprisonment of up to two years and/or a fine of PHP100,000 if an animal subjected to cruelty or maltreatment dies.
Those responsible for the injury of an animal will face imprisonment of six months to one year and/or a fine not exceeding PHP30,000.
The local government decided to cancel the event this year after officials of the Department of Agriculture advised them that it is unlawful.
Turogpo, a Waray term that means ''to meet'' or matchmaking, has been a tradition among residents here since the 1600s. The annual event was first staged 400 years ago as a subtle form of protest by Filipinos against the Spanish government.
The festival has three main events --the "pasungay" or the fight between two carabaos, the "pathway" or the fight between two horses, and the carambola wherein each of the town's 49 villages is represented in a cockfight where the rooster that will survive will be declared as the winner.
Based on the town's history, Turogpo was originally held every Good Friday as an act of defiance of the Carigara people to the order of Friars to observe piety, solemnity and absolute silence on the day the Catholic faith observes the death of Jesus Christ.
In 1983 at the request of the then Palo Archdiocese Bishop Cipriano Urgel, the date was changed to Black Saturday in order not to distract the parishioners in their pious observation of Christ's suffering and death. His request was agreed upon by the organizers. (PNA)