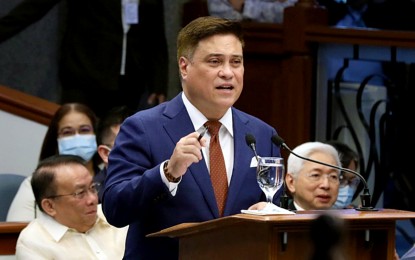 MANILA – The Senate leadership is looking to forge more partnerships with Japan, particularly the Reciprocal Access Agreement (RAA) and a United States-like Visiting Forces Agreement (VFA).
Senate President Juan Miguel Zubiri on Tuesday expressed his optimism for deeper relations with Japan during his meeting with counterparts in the Japan Philippine Parliamentarians Friendship League (JPPFL), headed by chairperson Moriyama Hiroshi.
The Philippine side also had Majority Leader Joel Villanueva, Deputy Majority Leader JV Ejercito, Senators Sonny Angara, Imee Marcos, Pia Cayetano, Sherwin Gatchalian, Grace Poe, Nancy Binay, and Mark Villar, with Philippine Ambassador to Japan Mylene Garcia-Albano,
Zubiri discussed with Moriyama and other counterparts the Japanese-Philippine bilateral relations, especially in the areas of trade and industry, tourism, disaster management, and defense and security.
"Japan's support has been a major boost to our defense systems and practices and I am hopeful that we can move forward with the Japan-Philippines Reciprocal Access Agreement as well, as Japan has done with the United Kingdom and Australia," Zubiri told the JPPFL, according to news release.
In February, Zubiri voiced his support for the Philippine and Japanese governments to forge a VFA, saying that with the ongoing territorial disputes with China and other countries in the West Philippine Sea, the country can benefit from stronger security cooperation with allied countries.
"We are here to show that the Philippines and Japan are more than just friends. We are strategic partners," Zubiri said.
"We are brought together by shared values and ideals, and we deal with shared problems as well. As such, it is incredibly important that we strengthen our cooperation, toward the overall success of our countries and of the region," he added.
Early this year, Japan and the United Kingdom (UK) forged their RAA which establishes procedures for the cooperative activities conducted by the defense force of one country while visiting the other and defines a status of the visiting force as well.
The UK is the second country, after Australia, to sign the RAA with Japan.
It is expected that the Japan-UK RAA will simplify procedures when implementing cooperative activities, such as port calls of vessels and joint exercises between the two countries as well as to further promote bilateral security and defense cooperation.
Zubiri also thanked Japan for extending assistance to the Philippines in the form of various loans and grants, delivery of air surveillance radar systems to the Department of National Defense, and trainings conducted by the Japanese Air Self-Defense Force for the Philippine Air Force in handling and operating its systems.
He invited the Japanese parliament to send a delegation to the Philippines for the upcoming Asia-Pacific Parliamentary Forum to be hosted by the Senate and the House of Representatives in November.
As a response, Moriyama emphasized that the Japanese government intends to develop its defense cooperation efforts further with the full support of the parliament. (PNA)