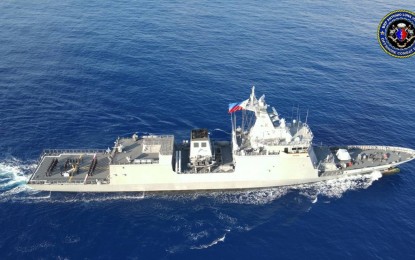 MANILA – The Philippine Navy (PN) on Wednesday announced that the missile frigate BRP Antonio Luna (FF-151), one of its most advanced and capable ships, has been deployed to patrol the Philippine Rise (formerly Benham Rise) off the coast of Aurora.
"BRP Antonio Luna carried out maritime patrol to intensify naval presence in the Philippine Rise, the 13-million-hectare undersea volcanic ridge located east of Luzon," the ship's acting commanding officer, Commander Jim Aris Alagao, said in a statement.
The region is part of the country's extended continental shelf, which is said to be abundant with natural resources, such as minerals and gas.
Alagao said the patrol is "part of the government's mandate to safeguard the country's national maritime interests in the northern frontier."
"The PN will always continue to be at the forefront in protecting the country's maritime domain and interests, " he added.
The crew of BRP Antonio Luna on April 1 raised a new Philippine flag atop the highest peak of Mavulis Island in Batanes, the country's northernmost island and the first line of defense.
The flag raising was part of the PN's "Operation Bantay-Layag," which began on March 31 and will run for a month.
The event was the second ceremony to be held on the island since the pandemic broke out in 2020. The first flag-raising activity was held in April 2021.
The hoisted flag also symbolizes and asserts Philippine sovereignty over the island.
"Among others, FF-151 also assisted the troops in Mavulis in troubleshooting the island's generator, as well as re-provisioned the troops with food and drinking water," Alagao said. (PNA)