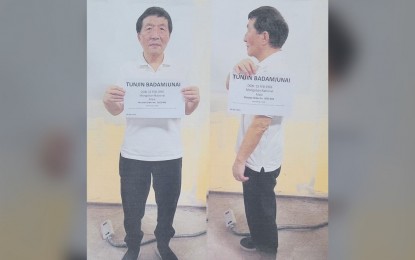 MANILA – The Bureau of Immigration (BI) announced on Wednesday the deportation of a former minister of Mongolia wanted in his home country for corruption.
Immigration Intelligence Chief Fortunato Manahan, Jr. said 67-year-old Tunjin Badamjunai, a former minister of Food, Agriculture, Light Industry of Mongolia, was arrested in Cebu City in coordination with Mongolian Police on Tuesday.
The BI official noted that to avoid further delay and inconvenience, Badamjunai was deported on Tuesday night via a Korean Airlines flight from Mactan, Cebu upon the request of Mongolian authorities.
"We were initially informed by Mongolian authorities that Badamjunai will be in Cebu City," he said in a statement.
The foreigner was arrested following the mission order issued by Commissioner Norman Tansingco.
Manahan said Badamjunai was reportedly charged with deportation for undesirability as he is a fugitive from justice who poses a clear and present danger, risk to public interest and safety, and threat to national security.
"The Mongolian government has also canceled his passport, rendering him undocumented," Manahan added.
"This is yet again a major arrest for our agents. Rest assured that we will continue to hunt down these criminals and continue to strengthen our partnership with foreign counterparts to maintain public safety and security," he said. (PNA)