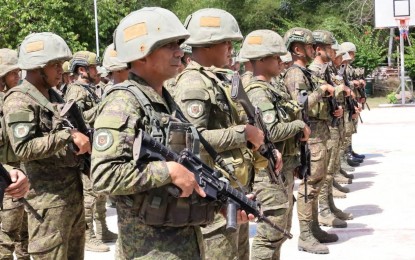 CEBU CITY – The Visayas Command (Viscom) on Wednesday assured the security and safety of witnesses who would cooperate with the government in the investigation of the series of killings in Negros Oriental, particularly in the Pamplona massacre that killed Governor Roel Degamo and eight others.
"We are very much willing to assist the witnesses, both on the violent attack that killed Gov. Degamo as well as on the previous killing incidents in Negros Oriental, to assure them of their safety and bring the perpetrators to justice," said Viscom chief, Lt. General Benedict Arevalo in a statement.
His statement came after the legal counsel of Degamo's family, Levito Baligod, revealed on Monday that families of the victims and eyewitnesses have come out to express their willingness to cooperate with the authorities should they be assured of their safety.
Viscom also took note of Baligod's earlier statement that before the March 4 attack at Degamo's residential compound in Pamplona town that also wounded several others, there were at least 64 reports of other killings in the province.
Arevalo said that coordination with concerned individuals and appropriate agencies will be made so as not to compromise the security of the witnesses.
"We value the trust and confidence of the people in Negros Oriental in your Armed Forces. Rest assured that our security efforts in the province will never waver. We will never stop until justice is served, and peace and order restored," he said.
Lt. Colonel Israel Galorio, Viscom's spokesperson, assured the individual witnesses and their communities that the six Army battalions will continue to conduct foot patrol and checkpoints "to neutralize personalities who are serving as spotters of previous killings."
"When it comes to witnesses, pag-uusapan naman po yung (we will discuss) coordination with the individual parties, the Degamo family, and Atty. Baligod. We are in constant coordination with other law enforcement agencies in assessing the level of threat of the witnesses," Galorio told the Philippine News Agency (PNA) in an interview. (PNA)