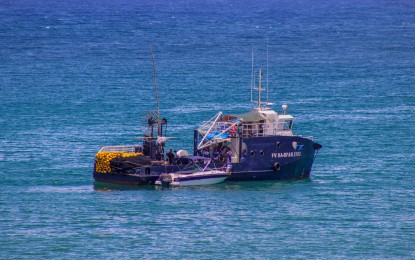 TACLOBAN CITY – The Bureau of Fisheries and Aquatic Resources (BFAR) regional office here has turned over a PHP39 million purse seine fishing vessel to members of Northern Samar Pacific Towns Fishermen's Cooperative (NSPTFC).
The fisheries bureau awarded the vessel on Wednesday through its Capacitating Municipal Fisherfolk Program designed to raise the capability of local fishers to contribute to the country's annual tuna production.
NSPTFC members are fishermen of the coastal towns of Mapanas, Palapag, Lapinig, Laoang, and Gamay.
The Pacific towns of the province and some areas in Eastern Samar are within the Tuna Conservation Management Zone (TCMZ), which is rich in tuna species.
BFAR Eastern Visayas Regional Director Hannibal Chavez, during the turnover, said local fisherfolks cannot maximize their daily fish catch due to the limited capacity of their small fishing boats and traditional fishing gear.
Northern Samar has nearly 1,000 tuna fishers relying on traditional fishing methods to catch tuna from the Pacific Ocean, according to Chavez.
"Through this program, the bureau foresees at least a 5.4 percent or 180 to 200 metric tons increase in tuna production in Northern Samar being provided with the state-of-the-art steel-hulled purse fishing vessel with a capacity to store up to 5,000 kilograms of fish catch," Chavez said in a statement.
In 2022, Northern Samar contributed 13 percent of the region's total fisheries production and recorded the second-highest yield of tuna in the region. (PNA)