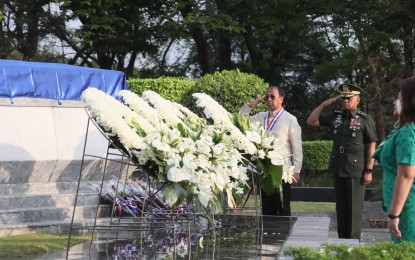 MANILA – Department of National Defense (DND) chief Carlito Galvez Jr. urged the present generation of Filipino to continue upholding the values of freedom, justice and equality.
Galvez made the call ahead of the country's observance of the 81st Araw ng Kagitingan (Day of Valor) on April 9.
"On this special occasion, let us take a moment to honor and remember the bravery and sacrifices of our Filipino heroes, who fought for our country's freedom," he added in a statement Thursday.
Galvez also said the "courage and selflessness" of these heroes in the face of adversity and oppression serve as a powerful reminder of the strength and resilience of the Filipino spirit.
Incidentally, the country is also observing Philippine Veterans Week (PVW) which falls from April 5 to 12 this year.
The PVW's theme for this year is "Kagitingan ng mga Beterano, Pundasyon ng Nagkakaisang Pilipino."
"As we commemorate this important day and week, let us also renew our commitment to uphold the values of freedom, justice, and equality that our heroes fought so hard to defend. Let us always be proud of our nation's history, and continue to strive towards a brighter and more prosperous future for all Filipinos," Galvez said.
For this year's Philippine Veterans Week, the Philippine Veterans Affairs Office has lined up various commemorative and special activities to memorialize the valor and heroic deeds of our Filipino veterans.
"As your Defense Chief, I enjoin everyone to participate in these events and to take inspiration from the courage and sacrifice of our veterans," he added.
April 9 of every year, by virtue of Executive Order 203 signed in 1987, is declared as "Araw ng Kagitingan" to honor the thousands of Filipino and American forces who fought for the country's liberty and democracy.
On April 9, 1942, or after 93 days of resistance, an estimated 60,000 Filipino and American troops were taken prisoners of war by the Japanese.
This year, President Ferdinand R. Marcos Jr. declared April 10, Monday, a regular holiday in observance of "Araw ng Kagitingan." (PNA)