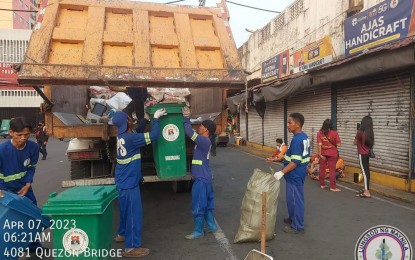 MANILA – The city government of Manila on Monday reported that over 40 metric tons of garbage were collected in the vicinity of Quiapo Church on Quezon Boulevard during the observance of the Holy Week.
In a statement, the Manila Public Information Office (PIO) said that from April 6 (Maundy Thursday) until April 9 (Easter Sunday), a total of 16 trucks collected a total of 44 metric tons of waste left behind by churchgoers during their visit to the Minor Basilica of the Black Nazarene for the observance.
Data from the city's Department of Public Services also showed that Good Friday yielded eight truckloads of trash -- the biggest volume of garbage collected during the Holy Week.
On the other hand, it added that the least number of garbage was collected on Black Saturday and Easter Sunday -- with two truckloads each.
The Quiapo Church Command Post has reported that a total of 179,508 devotees visited the basilica on April 6, 7 and 9.
The most number of people was recorded on April 6 and April 7 at 83,355 -- 57,005 of whom visited the church while 26,350 attended the procession.
A total of 53,630 visitors were recorded on Good Friday -- 15,630 of whom went to Quiapo Church while 38,000 were present during the procession.
On Easter Sunday, a total of 42,523 visited the basilica. (PNA)