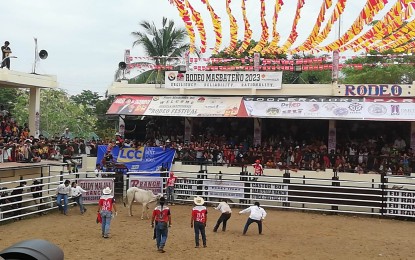 MASBATE CITY – The province of Masbate is again celebrating its famous Rodeo Festival after three years of hiatus due to the coronavirus disease pandemic.
In an interview on Tuesday, Department of Tourism (DOT)-Bicol regional director Herbie Aguas said he was very happy over the influx of tourists, noting that based on his assessment, the number of tourists witnessing the week-long event could reach 100,000.
Residents and several local and foreign visitors in cowboy attire on Tuesday joined the parade that signaled the opening of the festival, which promotes the province's agricultural products and tourism.
"Napakaganda ng opening ng Rodeo. Unang-una madaming nakiisa sa pag-open. After three years, nagkaroon uli ng Rodeo (The opening of the Rodeo is very entertaining. First, there are so many people who joined the opening. After three years, we again have the Rodeo). Everybody is so excited, almost all the Roll-Off, Roll-On (RoRo) and the fast craft vessels are fully booked, even the plane flight going to Masbate. It's a sign that people here in the region and even our neighboring regions are here to observe, witness and enjoy the festival," Aguas said.
The festival also aims to further promote Masbate's cattle industry and make the province the country's top beef producer.
Aguas said there are several competitions as part of the Rodeo Festival including the load-carrying relay, bullwhipping, two-person carambola, four-person carambola, bull riding, cattle wrestling on foot, cattle wrestling on horseback, and cattle lassoing on horseback.
"The Rodeo Festival 2023 competition and challenges are participated in by contingents from different areas like Regions 1, 10, 8, 5, and other big schools like Xavier University, Mindanao State University, and Pangasinan State University, among others," he said.
In addition to the main competitions, tourists and other festival-goers can also join the following activities and attractions: Cattle drive (April 12); Huego de Toro (April 12); Trade Fair (April 9-16); Rodeo Salon (April 9-16)); Livestock Show (April 9-16); Carnival rides (April 9-16); Barn Dance Competition (April 13); Beef cooking contest (April 14); Rodeo tattoo show (April 15) and Boxing Match (April 16), among others.
Aguas noted that the Rodeo Festival is one of the two nationally recognized festivals in the Bicol region, the other being the Peñafrancia Festival.
"This (Rodeo) is one of the declared festivals in the Bicol region, it is already on the map of the DOT central office," he added. (PNA)