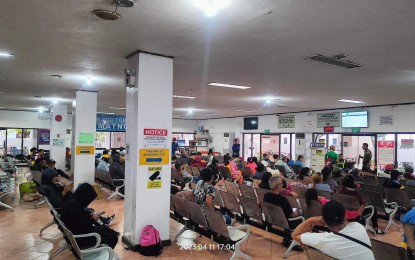 MASBATE CITY – More than 1,900 passengers are stranded at the four main ports of the Bicol Region due to Tropical Depression Amang, according to the Office of Civil Defense in Bicol (OCD5) on Wednesday.
In a phone interview, Gremil Alexis Naz, OCD5 spokesperson, said based on the submitted report of the Philippine Coast Guard-Bicol (PCG-5), 1,918 passengers were stranded at the ports in the provinces of Sorsogon and Albay.
"The report was based on the monitoring on the ground. Most of them were in Matnog port in Sorsogon - 1,235; Tabaco port in Albay - 197; Pioduran port in Albay - 275, and Pilar port in Sorsogon - 211," Naz said.
He noted that passengers at the Virac and San Andres ports in Catanduanes province went back to their respective towns, the reason they were not reported as stranded.
There were also stranded rolling cargoes, mostly at the Matnog Port with 258; Pilar Port -- 54; Pioduran, Albay -- 275; and Tabaco, Albay -- 14.
"There are also two ships stranded in Pilar port in Sorsogon and six ships temporarily took shelter -- 2 in Matnog, 1 in Pioduran, and 3 in Tabaco, Albay," Naz added.
A sea travel advisory issued by PCG-5 on Tuesday said all trips of vessels in and out of the provinces of Catanduanes, Sorsogon, and Albay were suspended. "No vessels of any type or tonnage shall not be allowed to sail except to take shelter," it said.
In its morning bulletin on Wednesday, the Philippine Atmospheric, Geophysical and Astronomical Services Administration (PAGASA) said "Amang" was last tracked over the coastal waters of Virac town, Catanduanes and was almost stationary.
The tropical depression is forecast to weaken into a low-pressure area on or before Thursday, PAGASA said.
Meanwhile, the Department of Social Welfare and Development in Bicol (DSWD-5) has prepared 50,423 family food packs (FFPs) for those who might be affected by "Amang".
In an interview, Marygizelle Mesa, DSWD-5 information officer, said the agency can release food packs and non-food items available at DSWD warehouses in Legazpi City, Camarines Norte, Camarines Sur and Masbate province as the need arises.
"The provincial action team (PAT) and city/municipal action team (C/MAT) members in the six provinces are on standby. The DSWD employees deployed in different cities/municipalities were instructed to coordinate with the local disaster risk reduction and management offices (LDRRMOs) for status reports and updates," Mesa said.
She said the FFPs were already prepositioned and ready for distribution upon request by local government units (LGUs).
She said the stockpile is composed of 24,050 kilograms of rice; 25,720 corned beef cans; 76,122 cans of sardines; 120,002 cans of tuna; 99,550 sachets of 3-in-1 coffee; and 152,845 cans of cereal drink.
On top of these, a PHP5-million standby fund is ready for additional purchase of food packs or any kits as needed.
Each family food pack can provide food on the table for two days for a family of five members.
Ako Bicol Party-list (AKB) Representative Elizaldy Co, chair of the House Committee on Appropriations, reassured the public the AKB is also prepared to provide assistance to the communities that might be affected by TD Amang in the region.
"Relief goods are already prepositioned, and the party-list's volunteers are on standby to provide support in any way possible," Co said in a statement.
The Bicolano lawmaker emphasized the importance of being prepared for any natural calamity and the need to act fast to address the needs of the people. "We have coordinated with local authorities and have prepositioned relief goods in strategic locations to ensure that we can immediately provide assistance to those who will be affected by the storm. Our volunteers are also ready to help in any way possible," he said.
Co also urged the public to take the necessary precautions and follow the guidelines set by the local disaster operation centers. These guidelines include monitoring and implementing localized evacuation in areas exposed to storm surges, floods, flash floods, and landslides. He hoped that by doing so, the risks posed by the forecast heavy to intense rain can be minimized, and everyone can stay safe and secure.
"The safety and well-being of the Bicolanos, especially during times of calamities like this, are our top priority," Co said.
He encouraged the public to stay updated on the latest weather updates. (PNA)