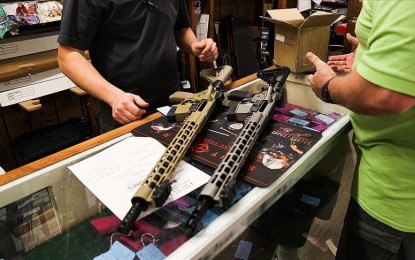 WASHINGTON – About half of American families have been affected by a gun-related incident while one in five said they have personally been threatened with a gun, according to a recent survey.
The survey conducted by the Kaiser Family Foundation also said that about 54 percent of US adults said they or a family member have experienced an incident involving guns.
The survey showed 21 percent were personally threatened with a gun while 19 percent said a family member was killed by a gun, which includes death by suicide.
Some 17 percent of respondents said they have personally witnessed someone being shot, 4 percent indicated they have used a gun in self-defense and 4 percent were injured in a shooting.
The survey showed that gun-related injuries and deaths "disproportionately" affect people of color in the US.
Thirty-one percent of Black adults have personally witnessed someone being shot while the figure for Hispanic adults was 22 percent.
About 84 percent of adults said they have taken at least one precaution against possible gun violence affecting their families.
According to the survey, four in 10 adults are living in a household with a gun.
The survey was conducted after the deadly school shooting in Nashville, Tennessee, which killed three students and three adults.
More than 11,500 people in the US have died from gun violence as of April 11, the non-profit research group Gun Violence Archive said Tuesday.
Records showed that there have 147 mass shootings in the country in 2023 that killed 72 children. (Anadolu)