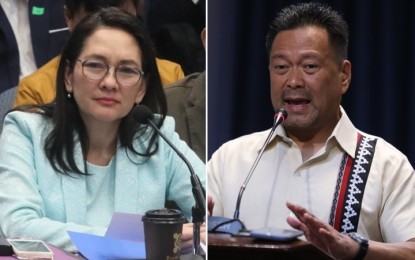 MANILA – Senators on Wednesday said a broader alliance between the Philippines and its allied countries must expand their defense cooperation in the South China Sea (SCS).
In separate statements, Senators Joseph Victor Ejercito and Risa Hontiveros said the country needs the international community to help de-escalate and cool the tension between the United States and China especially around Taiwan and in SCS or West Philippine Sea.
According to Ejercito, the Philippines' ongoing joint military exercises with the United States, as well as recent talks on the formation of a new defense pact with Japan, are crucial steps in achieving regional stability.
Ejercito pointed out that because of China's "aggressive" activities in the South China Sea, it is important for nations to have alliances and coordinate with each other's armed forces and coast guards to ensure that the freedom of navigation in the area is maintained.
"Japan, Australia, and the United States, as well as countries that have territorial claims in the South China Sea have to band together so that we can put up a respectable force against China's aggression," he said in his statement.
Hontiveros, on the other hand, said there should also be a review of the country's national policy towards China saying that its incessant incursions in the WPS have threatened the livelihood and safety of Filipinos, adding "we should have policies that reflect our resistance against her belligerent actions."
She admitted that while the tension in Taiwan is worrisome, the Philippines should not be coaxed to participate in any kind of war as we have to uphold the constitutional mandate of peace as the instrument of national policy or the abandonment of war as an instrument of national policy.
"We need the international community to help de-escalate and cool the tensions between the US and China, especially around Taiwan. Should China intensify actions in Taiwan, we should also look into how to safeguard not only the Filipinos living in Taiwan but as well as those who are in the northern parts of the Philippines," Hontiveros said.
The US and the Philippines launched on Tuesday its biggest Balikatan exercise, as more than 17,000 Filipino and American troops participated in the drill, a day after China ended its massive military drills around Taiwan..
The Balikatan joint military exercise was created under the US-Philippines Visiting Forces Agreement and the Mutual Defense Treaty between the two countries.
Last week, senators led by Senate President Juan Miguel Zubiri met with Japanese lawmakers and security officials to discuss proposals seeking to establish similar defense agreements between the Philippines and Japan.
Joining Zubiri were Ejercito, Majority Floor Leader Joel Villanueva, Deputy Majority Floor Leader Mark Villar, and Senators Win Gatchalian, Sonny Angara, Imee Marcos, Pia Cayetano, Grace Poe, and Nancy Binay. (PNA)