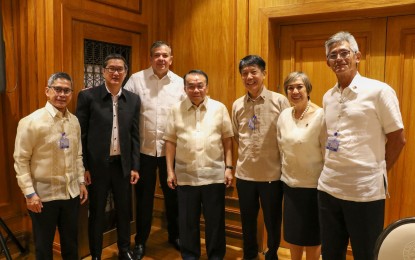 MANILA – President Ferdinand R. Marcos Jr. extended his support to the hosting of FIBA Basketball World Cup (FBWC) 2023 and the Philippine Sports Commission-led Task Force by calling a meeting Wednesday at the Malacañang Conference Room in Manila.
"This administration is committed to providing the Inter-Agency Task Force with all the necessary support and assistance it needs in order to fully achieve its objectives and to secure the safe, orderly, and successful conduct of the tournament," said Senior Deputy Executive Secretary Hubert Guevara who represented the President in the meeting.
Guevara encouraged all those involved to work together for a successful hosting of the FIBA World Cup.
"Let us all take this endeavor both as an opportunity and as a challenge—an opportunity to showcase what the Philippines has to offer and a challenge to make the FIBA Basketball World Cup a great experience for athletes and fans alike," he said.
PSC and Inter-Agency Task Force Chairman Richard Bachmann arranged the FIBA Basketball World Cup gathering attended by the Office of the Executive Secretary, leaders and representatives of various government agencies, FBWC Committee and PSC Commissioners Olivia "Bong" Coo, Matthew "Fritz" Gaston, Walter Francis Torres and Edward Hayco.
"Today, we move one step closer to fulfilling our goal of bringing the best World Cup hosting in the history of FIBA Basketball," Bachmann said in a news release on Wednesday.
"I also thank our national government for Administrative Order No. 5 issued by Malacañang last March 27, directing all government agencies and instrumentalities to extend their support for this hosting," he added.
Bachmann also expressed optimism about the hosting of the prestigious basketball event while assuring everyone that, "all timelines, concerns and deliverables expected from each of us here will be met, as we, at the PSC, continue to work hand-in-hand with the SBP and other vital agencies."
"Our Team Pilipinas needs the team within us," he added.
On Aug. 25-30 this year, the group phase of the competition will be hosted simultaneously by the Philippines, Japan, and Indonesia. The final phase is slated Sept. 5-10. (PNA)