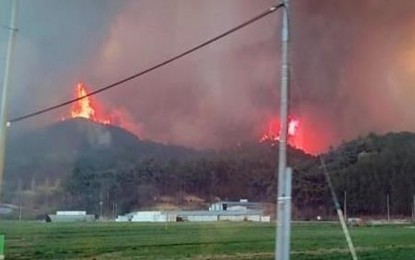 ANKARA – South Korea's president has declared part of a northeastern coastal city a disaster zone as wildfires forced evacuations, killing at least one person and leaving many others wounded, local media said on Wednesday.
The massive fire spread in parts of the city of Gangneung since Tuesday morning after the region was hit by typhoon-force winds that caused wildfires.
After hours-long efforts, the firefighters brought the fires under control, but they burned around 379 hectares of woodland and forced nearly 700 people to evacuate, according to the Yonhap News Agency.
At least one person died and 16 others suffered from smoke inhalation, said local officials.
President Yoon Suk Yeol designated the Gangneung region a special disaster zone, making locals eligible for government financial support for recovery work, relief funds for victims, and other benefits, the agency reported.
Yellow dust storm
South Korea has also been hit by a yellow dust storm originating in the Gobi Desert in northern China and Mongolia, said state meteorologists.
The storm affected the entire country starting early Wednesday and is set to continue through Thursday, Yonhap said, citing the state weather agency.
Authorities also advised people with respiratory illnesses, the elderly, and children to stay indoors and use masks when going outside.
On Tuesday, after originating from southern Mongolia, a heavy sandstorm swept through the Chinese capital Beijing and other northern Chinese regions including the Inner Mongolia, Heilongjiang, and Xinjiang provinces, affecting 15 provincial-level regions and 409 million residents, reports said.
Meteorological authorities said: "The sandstorm was triggered by strong winds generated by a localized cyclone and a ground-level cold front."
According to China's National Meteorological Center, this year Northern China has experienced more frequent sandstorms than average compared to the last decade. (Anadolu)