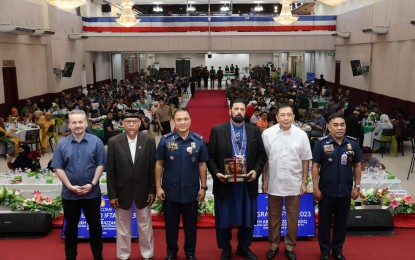 MANILA – In line with efforts to promote peace and unity, the Philippine National Police (PNP) hosted the Grand Iftar 2023 on Wednesday.
The grand Iftar is an annual event held during the holy month of Ramadan to break the fast and celebrate with family and friends. It is an essential part of Islamic culture and observed by Muslims all over the world.
The event, organized by the Salaam Police Center of the PNP's Directorate for Police Community Relations (DPCR) and held in Camp Crame, aims to promote commonality among different faiths and bridge gaps by promoting an understanding of Islamic practices and traditions.
PNP chief Gen. Rodolfo Azurin Jr., who was not present at the event, sent his message of support through DPCR director Maj. Gen Mario Reyes.
"This event serves as a reminder of the values that we hold dear as the premier police agency of the country, particularly the values of diversity, inclusion, and unity. We are proud to have a diverse and inclusive police force, and we recognize the important role that our Muslim PNP personnel play in promoting understanding and unity in our society," Azurin said.
"As we continue to face various challenges as a nation, let us stand together as a united front against the forces of division and hatred. Let us continue to strive towards a peaceful and prosperous Philippines, where all individuals are able to live their lives free from fear and discrimination," he added.
The holy gathering was graced by Sheikh Abdul Razzak Siddiq, the chairman of Peace Center Kapayaan, Inc, and a known peace advocate, as the guest of honor and speaker and National Commission on Muslim Filipinos (NCMF) Secretary Guiling "Gene" A. Mamondiong.
The event was participated in by more or less 250 Muslim PNP personnel from National Capital Region Police Office, Special Action Force, and Camp Crame-based offices/units, including the National Officers of Salaam Police Advocacy Group and other Muslim personalities in the National Capital Region and nearby provinces.
The 2nd PNP Grand Iftar builds on the success of the 1st Grand Iftar, which was held on April 28, 2022, and was attended by more than 300 Muslims from various sectors, including the ambassadors of Pakistan, Palestine and Brunei Darussalam, with the ambassador of Pakistan as one of the keynote speakers.
The PNP remains committed to promoting inclusivity and understanding among different faiths and communities, as part of its mandate to serve and protect all Filipinos.
Through activities like the grand Iftar, the PNP hopes to foster a culture of respect, acceptance, and solidarity among all Filipinos, regardless of religion or ethnicity, (PNA)