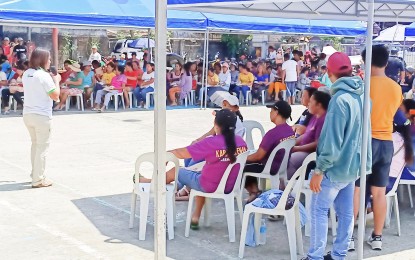 DUMAGUETE CITY – Municipal and barangay officials and residents of Sta. Catalina, Negros Oriental urged the provincial government to stop the mining exploration in the town before this could become a full-scale operation that would endanger humans and the environment.
Sta. Catalina Mayor Peve Ligan said they are seeking the help of Governor Carlo Jorge Juan Reyes before the problem gets worse as tension is now brewing in Sitio Taruga, Barangay San Francisco, where the gold mining exploration has started.
"This situation is now brewing between those who favor or are opposed to the mining exploration, and in fact, a protest rally was held yesterday," Ligan said.
Three villages within the immediate vicinity of the mining exploration, wrote a joint resolution opposing the project of Midan Corporation.
Ligan said the mining exploration started about a week ago even though documents obtained by her office showed that the project had been approved by the Mines and Geosciences Bureau (MGB) of the Department of the Environment and Natural Resources (DENR) as early as 2018.
She said she was not yet the mayor at that time but had already heard about it. The exploration did not push through though due to the Covid-19 pandemic.
Midan Corporation secured a license to explore on March 12, 2018, and then was issued a renewed permit sometime in July 2021.
The exploration reportedly covers 844 hectares of land in Sta. Catalina, but it was not specified which barangays are included.
The mayor said they are opposing the mining exploration since the municipal council has already declared the area in Tarug for tourism purposes.
At the same time, it is a watershed area and home to thousands of fruit and vampire bats, with rich biodiversity, waterfalls, and a cave system that are all tourism potential.
Ligan also pointed out that residents in the area are dependent on agriculture, with ginger being its prime farm produce that rakes in hefty amounts of income for the planters.
The exploration, she added, lacked provincial government and local town permits and public consultation, underscoring that such activity would endanger the environment and the people.
The immediate concern right now is to ensure the safety of residents in the area, she said.
The mayor also met with Vice Governor Manuel "Chaco" Sagarbarria in a closed-door meeting at the Legislative Building on Thursday to discuss possible actions to take in the coming days. (PNA)