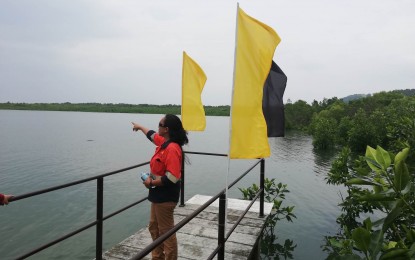 AROROY, Masbate – More than 400 fishers in Aroroy, Masbate have planted some 1.6-million mangrove propagules in the coastal areas of the municipality over the past nine years as part of Masbate Gold Project's (MGPs) environmental programs.
In an interview on Thursday, Elmer Alvarez, president of the San Agustin Fisherfolks Association, said they are being paid by MGP every quarter to grow mangroves and do replanting as an additional livelihood.
He said although fishing remains his main source of livelihood, the money he gets from mangrove rehabilitation helped to finance his children's education.
"Malaki po ang tulong na naibibigay sa amin ng MGP sa pamamagitan ng mangrove propagules planting. Salamat kay Lord sa tulong at biyaya niya. May ginamit siyang makaragdag sa kabuhayan namin (Thanks to the Lord for his help and blessing. He gave us a way to help uplift our livelihood)," Alvarez said.
Since 2014, Alvarez's group has been tasked through a memorandum of agreement with other seven cooperatives to plant mangrove species like Miapi and Baras-Baras in the villages of San Agustin, Don Pablo Dela Rosa, Matalangtalang, San Isidro, Balawing, Panique, Amoroy and Puro.
"May additional income kami, maliban sa pangingisda at pagtatanim may hinihintay kami para sa pag-aaral ng mga anak (We have additional income, aside from fishing and planting, we are waiting for the payment that can be used for the education of our children). We are very grateful that aside from the livelihood, we are also an agent to help protect the environment that in return our children will benefit from in the future," he added.
The 1.680 million mangrove propagules planted were spread over 347 hectares covering the eight barangays impacted by the mining operation in the province.
"I have seven children and three of them were able to finish college. So the money we get from mangrove planting contributed a lot," Alvarez added.
He also said his fish catch has improved since the mangroves flourished.
"Noon yung kaunting isda na nakikita namin, dumami na (The few fish we saw then have multiplied)," he said. As for the money they get from MGP, he said they divide it individually, depending on how many propagules each member planted.
MGP is composed of two firms -- Filminera Resources Corporation (FRC), the holder of the Environmental Compliance Certificate, mining tenements, surface rights and the Mineral Production Sharing Agreement (MPSA), and Phil. Gold Processing & Refining Corp., the holder of a mineral processing permit and which owns and operates the processing plant.
Lovella Cariaga, Filminera environmental manager, in a separate interview, said the mangrove rehabilitation of Aroroy, particularly for the eight impact barangays, has been a part of the MGP's Environmental Protection and Enhancement Program (EPEP) to ensure environmental protection, community awareness and social responsibility within these areas.
"Every year, the eight cooperatives plant 30,000 mangrove propagules, and for every propagule they planted, they were paid PHP20, so in total, they can receive more about PHP600,000," she said.
The EPEP is a provision in the Mining Act of 1995, which requires operating mining companies to establish and implement an environmental management program that will take care of and even enhance the environment in its operating area from the start to the end of the mine life.
Cariaga said these have a significant effect on the coral reef environment by destroying habitat and decimating fish stocks. The damage from these methods can take generations to naturally repair and, in many cases, are irreparable. (PNA)