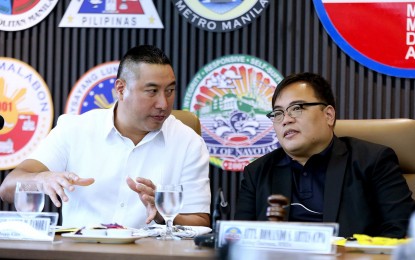 MANILA – Metro Manila will implement a single ticketing system for traffic violations starting May 2, following an agreement between the Metropolitan Manila Development Authority (MMDA), the local government units (LGUs) of the region, and the Land Transportation Office (LTO) on Thursday.
In a statement, MMDA Acting Chair Don Artes said the signing of a memorandum of agreement (MOA) and data sharing agreement (DSA) aim to harmonize the existing national and local laws on traffic enforcement, as well as penalties and fines of the most common traffic violations stated in the Metro Manila Traffic Code.
"The pilot testing will be done so the next LGUs that will be onboard will roll out their respective systems seamlessly," Artes said.
Pilot testing for the single ticketing system will be done by the MMDA and seven LGUs—San Juan, Muntinlupa, Quezon City, Valenzuela, Parañaque, Manila and Caloocan.
The MMDA will provide handheld devices to apprehending officers that can offer cashless payment options to violators.
These devices will be connected to the Land Transportation Management System (LTMS) of the LTO to enable real-time data sharing and verification.
He added that the system will help minimize corruption and eradicate forms of negotiations between the motorist and the officer.
Senator Francis Tolentino, a former MMDA chair, expressed his support for the single ticketing system as he underscored the importance of integration.
"Integration will enable different systems to communicate with each other, to offer a unified solution and that is what you are doing now," Tolentino said.
President Ferdinand R. Marcos Jr., through Senior Deputy Executive Secretary Hubert Guevarra, welcomed the passing of the single ticketing system.
"Let this be a way for all our motorists to become more conscious and respectful of our laws, rules, and regulations," Marcos said.
LTO chief Jay Art Tugade, through Noreen San Luis-Lutey, also expressed his support for the rollout of the system.
San Luis-Lutey said the signing of the MOA and DSA is monumental for the LTO.
"It is a big milestone for us in terms of enhancing driver discipline through consistent and coordinated law enforcement initiatives," San Luis-Lutey said.
The single-ticketing system, she said, will work in conjunction with the implementation of the 10-year validity of the driver's license.
San Juan City Mayor and MMC president Francis Zamora thanked his fellow local chief executives for being part of the landmark legislation.
"The mayors have shown support and love to Metro Manila by amending our traffic ordinances to create a unified traffic code," Zamora said.
The single ticketing system aims to establish effective transport and traffic management in Metro Manila by standardizing apprehension procedures, payment of fines, and redemption of vehicle plates and driver's licenses, among others. (PNA)