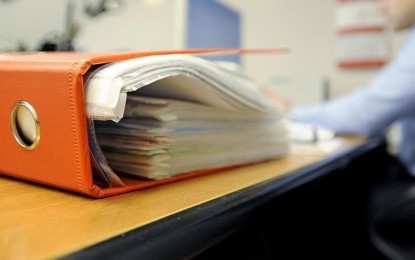 WASHINGTON – US law enforcement officers have taken a member of the US Air National Guard suspected of leaking classified Pentagon documents into custody on Thursday.
Officers arrested Jack Teixeira, 21, in the state of Massachusetts where he had been serving in the military.
Attorney General Merrick Garland said Teixeira will be charged with the "unauthorized removal, retention, and transmission of classified national defense information."
Teixeira was arrested "without incident," and will make an initial court appearance at the US District Court for the District of Massachusetts, the top law enforcement official said in brief remarks.
The FBI said it is continuing to "conduct authorized law enforcement activity at the residence" in North Dighton where Teixeira was arrested.
"Since late last week the FBI has aggressively pursued investigative leads and today's arrest exemplifies our continued commitment to identifying, pursuing, and holding accountable those who betray our country's trust and put our national security at risk," the bureau said in a statement emailed to Anadolu.
CNN aired aerial footage appearing to show heavily-armed law enforcement agents taking him into custody.
The New York Times newspaper first identified Teixeira as the leader of the Discord chat group on which the documents had initially been shared.
The arrest came just hours after US President Joe Biden said federal investigators are "getting close" to identifying the source of the Pentagon documents leak.
"There's a full-blown investigation going on, as you know, with the intelligence community and the Justice Department. And they're getting close," he told reporters in Ireland where he is making his first official visit since coming to office in 2021.
In interviews with four members of the Thug Shaker Central chat group, the New York Times said the group's leader was described as older than the young men and teenagers who made up the group, and had access to US intelligence documents through his job.
The group members did not identify the leader by name, but the Times said an analysis of online activity and information, including a gamer profile, led them to determine the individual is Teixeira.
Many of the apparent classified US documents that circulated online were crudely taken photos of documents with markings bearing varying levels of classification and appear to be folded.
The Times said the photos included background details that matched photos of Teixeira's childhood home that were posted on social media.
Teixeira's mother, Dawn, confirmed her son serves in the Air National Guard, and said he had recently changed his telephone number during an interview outside her home.
A man whom the Times said appeared to be Teixeira later drove on to the property and was seen standing with Dawn in the driveway.
When asked if Airman Teixeira could speak, the man said, "He needs to get an attorney if things are flowing the way they are going right now. The Feds will be around soon, I'm sure." (Anadolu)