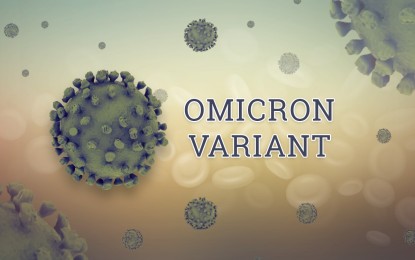 MANILA – The Department of Health (DOH) has detected 39 more cases of Omicron XBB.1.91 subvariant, an XBB sublineage.
In its latest surveillance report, the DOH said the subvariant was added to the list of variants under monitoring by the World Health Organization on March 30.
"The variant was initially flagged due to its increasing global prevalence and higher growth advantage. The variant has been detected in 63 countries or jurisdictions across six continents, according to sequence submissions in GISAID [Global Initiative on Sharing All Influenza Data]," the DOH said.
About 199 samples were sequenced by the University of the Philippines - Philippine Genome Center Main and Mindanao branches last April 3 to 11.
Out of these, 114 or 57.29 percent were classified as XBB including 30 XBB.1.5 cases and the 39 XBB.1.9.1 cases.
Thirty-five of the 39 XBB.1.9.1 cases were tagged local -- 22 from Davao Region; seven from Ilocos Region; four from the National Capital Region; and one each from Central Visayas and Soccsksargen.
The remaining four case were returning overseas Filipinos (ROF).
Previously, the country has logged 15 cases of the subvariant.
"Currently available evidence for XBB.1.9.1 does not suggest any differences in disease severity and/or clinical manifestations compared to the original Omicron variant," the DOH said.
"Limited information is available for the variant and researchers are currently characterizing the variant in terms of transmissibility, immune evasion, and ability to cause more severe disease."
The remaining samples sequenced during that period were classified as BA.2.3.20 with 70 cases; XBC, two cases; CH.1.1, one case; BQ.1, one case; and BA.2, one case.
"Among the BA.2.3.20 cases detected, one was classified as a ROF and the remaining cases were local cases from Cagayan Valley, Central Luzon, CALABARZON, Central Visayas, and the Davao Region," the DOH said.
The reported BQ.1 and XBC cases were from the Davao Region while the CH.1.1 case was from Region 4-B (Mimaropa).
As of March 22, the WHO has labeled BA.2.75, BQ.1, CH.1.1, and XBF as variants under monitoring and XBB.1.5 as variant of interest.
The European Centre for Disease Prevention and Control has labeled BA.2.75, BQ.1, XBB, and XBB.1.5 as variant of interest; and CH.1.1, BN.1, and XBC as variants under monitoring as of March 23. (PNA)