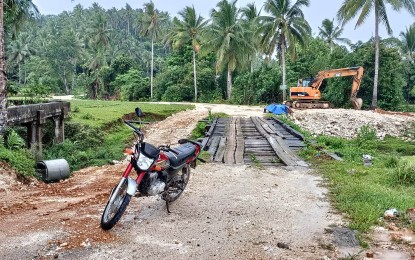 ORAS, Eastern Samar – Residents of this town's eight remote villages will soon be connected to the main road through a PHP100 million funding from the Department of Agrarian Reform (DAR).
The budget will finance the Iwayan-Minap-os, Nadacpan-Saurong, Saurong-Agsam, Agsam-Iwayan, San Eduardo-Nadacpan, Alang-alang-Cadian, and Alang-alang-Minap-os farm-ro-market roads (FMRs).
These seven road sections, which have a combined length of 6.8 kilometers, were funded under DAR-Agrarian Reform Fund.
The project had the groundbreaking last April 8, and is expected to be completed within two years.
Alang-alang village chief Jocelyn Cabilan said in an interview Thursday that once the road project is done, locals will no longer have to ride a motorized boat without an outrigger to get to the town center.
Travel time to their village takes about an hour, and with the construction of the new road, it will only take them 15 minutes to get to the town center.
"The road is a big help because even in rainy season, we can safely travel to town to bring our farm products," Caiblan said.
For Cadi-an village chief Benhur Aparra, not only the road project will help facilitate the transport of goods, but it will also allow children to go to school even during rainy days.
Cadi-an is the farthest among the seven villages to benefit from the project.
"Currently, we're transporting patients with emergency cases through motorboat, which takes us longer to reach medical facilities, but once this road is completed, we can transport patients to the nearest hospital in just 30 minutes," Aparra said.
DAR Eastern Visayas regional director Robert Anthony Yu said the department's mandate is not only to distribute land, but also to provide support services to agrarian reform beneficiaries (ARBs), such as the construction of FMRs.
"Distributing land is not enough, we also need to provide support such as farm equipment and machinery and farm-to-market roads. Better roads help in the development of our ARBs and other farmers by allowing them to efficiently bring to the market their products and reduce the cost of transportation," Yu added.
Representative Marcelino Libanan of 4P's Partylist vowed to look for more funds for the construction of FMR that will connect remote villages in the province to main roads and commercial areas.
"We will look for more funds to construct roads to link and connect every village in Eastern Samar province to spur development and uplift the living condition of our people," Libanan added.
The road concreting project is expected to benefit 3,616 ARBs and additional 6,691 individuals who are non-ARB.
The residents in these eight villages are mostly engaged in rice and coconut production. (PNA)