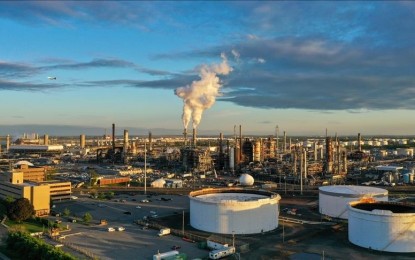 ANKARA – Oil prices rebounded slightly on Monday in anticipation of the release of positive Chinese economic data, but negative comments from United States Federal Reserve (Fed) officials weighed on prices.
International benchmark Brent crude traded at $86.35 per barrel at 10:01 a.m. local time (0701 GMT), a 0.04 percent increase from the closing price of $86.31 a barrel in the previous trading session.
Simultaneously, the American benchmark West Texas Intermediate (WTI) traded at $82.47 per barrel, up 0.05 percent from the previous session's close of $82.43 per barrel.
Prices began early trade on a down note after Fed Governor Chris Waller stated on Friday that the Fed had made little progress in lowering inflation based on current data, though he added that the central bank's job was not finished.
"Whether you measure inflation using the CPI (consumer price index) or the Fed's preferred measure of personal consumption expenditures, it is still much too high and so my job is not done," Waller said in a speech at the Graybar National Training Conference in San Antonio, Texas.
"Financial conditions have not significantly tightened, the labor market continues to be strong and quite tight, and inflation is far above target, so monetary policy needs to be tightened further," Waller added.
Fears of higher interest rates also fueled the US dollar's strength, discouraging oil-importing countries from purchasing dollar-indexed crude.
The US dollar index, which measures the value of the American dollar against a basket of currencies, including the Japanese yen, British pound, Canadian dollar, Swedish krona and Swiss franc, rose 0.08 percent to 101.32 early Monday.
Following the brief dip in early trade, however, prices began to rise in anticipation of the release of China's first-quarter economic data, which is expected to outperform expectations due to a rebound in consumption.
The National Bureau of Statistics will release first-quarter gross domestic product (GDP) growth and other data early on Tuesday.
This data release will be China's first quarterly economic performance in the post-coronavirus disease 2019 (Covid-19) period, which will provide insight into whether China can meet its economic goals this year. (Anadolu)