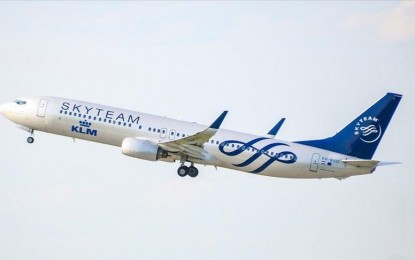 LONDON – The body of a man was found in the undercarriage of a KLM Royal Dutch Airlines plane that flew from Canada to the Netherlands, according to reports Monday.
The body was found in the landing gear of the plane after it arrived at Schiphol Airport outside of Amsterdam, the NL Times reported, citing airport authorities.
The plane flew from an unspecified Canadian city to Amsterdam, but the same aircraft had recently been on the ground in Lagos, Nigeria before it was sent to Canada.
It is also not clear in which city the man climbed into the landing gear mechanism and no crime is suspected.
"The investigation is still ongoing and we are trying to find out the identity of the victim so that the family can be informed," a Royal Netherlands Marechaussee spokesperson told the Dutch daily Telegraaf.
The man is believed to have been a stowaway who was hiding in the airplane's wheel well, security forces confirmed.
In January 2022, a similar incident took place at the same airport, as a man who hid in the wheel section of a cargo plane traveling from Johannesburg with a stop in Nairobi was found alive after enduring an 11-hour flight. (Anadolu)