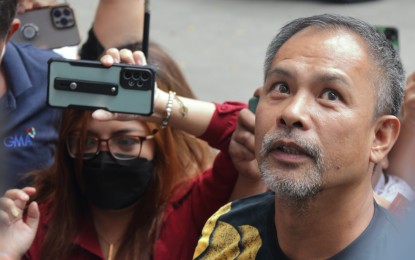 MANILA – Philippine National Police chief Gen. Rodolfo Azurin Jr. on Tuesday said suspended Bureau of Corrections (BuCor) chief Gerald Bantag is already considered a fugitive and should surrender over the death of broadcaster Percival "Percy Lapid" Mabasa and inmate Jun Villamor.
"Anybody who has an existing arrest warrant is a fugitive. That's why we encourage Gerald to surrender," said Azurin, referring to Bantag.
"He has a warrant of arrest. Of course, it will be easier for everybody if he just surrenders and face the case filed against him. That way, he can also have his day in court," he added.
The PNP chief said the Criminal Investigation and Detection Group (CIDG) is leading efforts to arrest alleged masterminds Bantag and Jail Officer Ricardo Zulueta, along with their supposed cohorts.
Azurin said he is not aware of any feeler from Bantag, expressing his desire to surrender.
CIDG chief Brig. Gen. Romeo Caramat already mobilized his officers after the Muntinlupa Regional Trial Court Branch 266 issued an arrest warrant against the two.
Included in his directive was the creation of tracker teams which will focus on the case buildup and operational research to determine the whereabouts of the accused.
"The CIDG will ensure that justice will prevail against offenders by carrying out its mandates in compliance to the marching orders of Justice Secretary Jesus Crispin Remulla for the arrest of Bantag and Zulueta," Caramat said.
The court did not set any bail for the temporary liberty of the two accused.
Both the accused have claimed innocence in the plot to kill Mabasa and Villamor, which law enforcers said was prompted by a number of exposés made by the veteran journalist.
Last week, a Las Piñas City court issued an arrest warrant against Bantag and Sr. Supt. Ricardo Zulueta, Israel Dimaculangan, Edmon Dimaculangan and alias Orly/Orlando for the murder of Mabasa.
A Muntinlupa City court has also issued an arrest warrant against Bantag and Zulueta for the murder of National Bilibid Prison inmate Cristito Pana Villamor, the alleged middleman in the killing of Mabasa.
Mabasa was on his way home in Las Piñas when he was waylaid by gunmen who fired at his vehicle on Oct. 3, 2022.
Days later, Joel Escorial surrendered to authorities and claimed to be one of the gunmen, along with brothers Edmon and Israel Dimaculangan, claiming that they were acting upon instructions from contacts inside the New Bilibid Prison (NBP) in Muntinlupa CIty.
A day after Escorial identified Viillamor as one of his NBP contacts, the latter turned up dead behind bars.
An independent autopsy concluded that Villamor died of "asphyxia by plastic bag suffocation." (PNA)