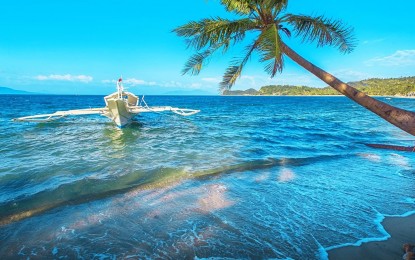 MANILA – The Department of Health (DOH) on Tuesday advised the public to refrain from occupational and recreational water activities in Puerto Galera, Oriental Mindoro as oil and grease contaminants have been found in several areas.
Only nine out of 35 sampling stations in the municipality and its barangays have met the criteria for water quality guidelines set by the Department of Environment and Natural Resources (DENR) Administrative Order 2016-08 or the Water Quality Guidelines and General Effluent Standards of 2016.
DOH Officer in Charge Maria Rosario Vergeire said Tuesday the finding "is not conclusively related" to the recent oil spill due to a sunken tanker off the waters of Naujan town in February, which affected several areas in Oriental Mindoro.
"We are still coordinating with DENR on this," she said.
The test results released on April 14 show that the areas that passed the quality guidelines on "oil and grease" contaminants include Small Lalaguna and Big Lalaguna Shoreline, Balete, Central Sabang Shoreline, Coco Beach, Batangas Channel, Paniquian, Balatero, and West San Isidro Bay.
"This is the fourth test that they have done sa mga katubigan ng (on the waters of) Oriental Mindoro, including Puerto Galera. This is done every four to seven days," Vergeire said in a media forum. "Hindi na po tayo mag-aantay pa ng patuloy na test. Nakakita na po tayo ng accurate results (We have seen accurate results, so we won't wait for more tests)."
High contaminants for oil and average grease could cause harmful effects to the body, she added.
In a joint statement with the DENR, the DOH noted that exposure to such contaminants may cause rashes and blisters and may result in aspiration leading to respiratory diseases.
Ingestion of contaminated water may cause gastrointestinal irritations manifested acutely as abdominal pain, nausea, vomiting, and diarrhea.
Apart from the conduct of water activities, the DOH also advised the public to refrain from consuming water from affected areas.
Local government units and water service providers in the area are also advised to carry out their own monitoring of the water quality, after the DENR's water quality guidelines. (PNA)