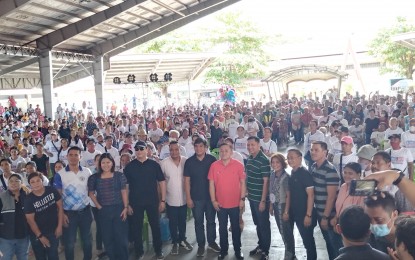 UMINGAN, Pangasinan – Some 700 persons with disabilities (PWDs) from this town received financial aid and other forms of assistance from different national government agencies on Tuesday.
Beneficiaries were each awarded PHP3,000 in financial aid under the Assistance to Individuals in Crisis Situations (AICS) of the Department of Social Welfare and Development (DSWD).
The AICS serves as a social safety net or stop-gap measure to support the recovery of individuals and families suffering from unexpected life events or crises, the DSWD said.
In an interview, Umingan Mayor Michael Carleone Cruz said the beneficiaries were PWDs affected by the pandemic.
"We are grateful to the national government for giving our kababayan (countrymen) this financial aid, which will be useful to them," he said.
Aside from the financial assistance from the DSWD, the Office of Senator Christopher Go also distributed face masks, vitamins, wheelchairs, canes, grocery items, sports equipment, shoes, bikes, and cellphones, among others.
"The PWDs were among those who were severely affected by the pandemic. Although seemingly we are at the end of the pandemic, its effect on the livelihood of the people is still felt," Go said.
Twinkle Carion, one of the beneficiaries, said she would use the financial aid for her family's needs.
Meanwhile, Go urged residents of the town to avail of the services being offered by the Malasakit Centers nationwide.
There are already 157 Malasakit Centers all over the country.
He said Malasakit Centers make it easy for financially incapacitated Filipinos to seek financial and medical assistance as the Philippine Health Insurance Corporation, Philippine Charity Sweepstakes Office, Department of Health and Department of Social Welfare and Development are lumped together.
Go said no qualification is needed to avail of the services of the center, except that one should be a Filipino citizen. (PNA)