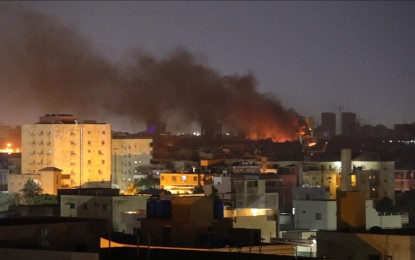 KHARTOUM, Sudan – The death toll in the ongoing clashes between the Sudanese Armed Forces (SAF) and the Rapid Support Forces (RSF) has climbed to 144, the Central Committee of the Sudanese Doctors (CCSD) said in a statement Tuesday.
"The number of casualties is rapidly increasing with the continuation of the aggressive fighting and the deterioration of the hospitals' capacity to receive the injury cases. The limit of movements due to the intensive fire and the shut-down of some hospitals due to the attack and cut of the power also make it more complicated," CCSD said in a statement.
Meanwhile, the fighting continued for the fourth consecutive day with intensive airstrike and artillery shelling, particularly in and around the army headquarters.
The two sides have blamed each other for being responsible for Monday's attacks on diplomats in the country, including EU Ambassador to Sudan Aidan O'Hara in his own residence and on a US embassy convoy.
The army head Gen. Abdul Fattah Alburhan has granted pardon to the RSF soldiers who will surrender to SAF.
Efforts of regional and international mediations are underway to slow down the situation after the two sides conducted a four-hour truce by the UN to evacuate hundreds of civilians held in the clash areas. (Anadolu)