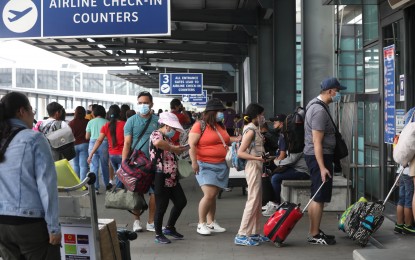 MANILA – Only 2 percent of passengers were misrouted last April 16 -- the first day of implementation of the second phase of the schedule and terminal assignment rationalization program, the Manila International Airport Authority (MIAA) reported on Wednesday.
Flights of Jetstar Japan, Jetstar Asia, Scoot, China Southern Airlines and Starlux Airlines have been relocated from the Ninoy Aquino International Airport (NAIA) Terminal 1 to Terminal 3.
Philippine Airlines (PAL) flights to and from Singapore, Ho Chi Minh, Hanoi and Phnom Penh have been moved to Terminal 1 from Terminal 2.
The MIAA reported that only 2 percent or 71 of the 3,311 passengers were misrouted. No one was offloaded from the 22 flights affected by the program implementation last Sunday.
"We are satisfied with how well these carriers transitioned. This is a result of our months of coordination with the airlines and ground handlers," MIAA General Manager Cesar Chiong said in a statement.
Free shuttle services between NAIA Terminals are provided for the passengers, while ground handlers are stationed at the departure gates to assist them, the MIAA said.
The program, according to Chiong, aims to maximize the capacity of all the NAIA terminals and eventually make Terminal 2 an all-domestic facility.
By July 1, the domestic operations of AirAsia Philippines and Royal Air will relocate to Terminal 2.
Due to the huge volume of operations of Cebu Pacific and CebGo, their flights will remain at Terminals 3 and 4 for the meantime.
Also part of the program is the relocation of Jeju Air, Ethiopian Airlines, Thai Airways and Gulf Air to Terminal 3 starting June 1.
All the remaining PAL international flights will operate to and from Terminal 1 starting June 16. (PNA)