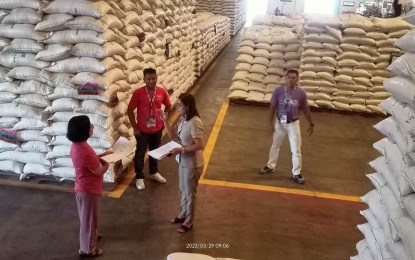 LAOAG CITY – The National Food Authority (NFA) in Ilocos Norte province on Wednesday announced that it has started buying palay (unhusked rice) from local farmers here at PHP19 per kilogram.
NFA-Ilocos Norte provincial manager Jonathan Corpuz said the continuing procurement of palay aims to ensure sufficient supply in the locality and to give farmers an accessible market for their crops.
In Ilocos Norte, the NFA buying station is located in Barangay 2, Sta. Joaquina.
When selling their palay to any of the NFA buying stations, farmers are advised to bring their "basic sectors in agriculture" stubs for verification and as proof of their registry in the system.
The NFA, an agency attached to the Office of the President, is mandated to ensure national food security and stabilize the supply and prices of staple cereals, both at the farm and consumer levels.
The food agency buys palay from farmers not only to stabilize farm-gate prices but also to boost its stockpile.
"We have 40,277 bags of palay and 34,145 bags of rice stored in our warehouses in Ilocos Norte, Ilocos Sur, and Abra," said Corpuz.
Meanwhile, the NFA has started distributing its one time rice assistance for government employees in the province.
Recently, the Department of Budget and Management released funds to the NFA for the grant of the one-time rice assistance to all eligible government employees under the national government agencies. Each recipient is entitled to receive one cavan each weighing 50 kilos. (PNA)