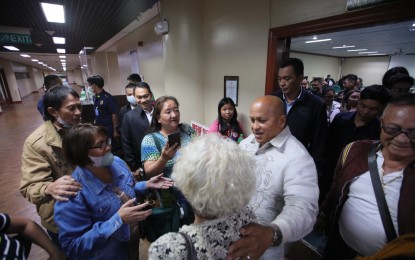 MANILA – Lawyer Renan Oliva, National Bureau of Investigation (NBI) Central Visayas chief, on Wednesday told the Senate Committee on Public Order and Illegal Drugs that Negros Oriental Rep. Arnolfo Teves threatened to file criminal charges against him and his men should they continue to raid e-sabong operations in Cebu.
Oliva has appeared before the committee on its third day of the hearing regarding last month's gun attack that killed Negros Oriental Governor Roel Degamo and eight others.
The NBI official testified that Teves accused him and his men of stealing PHP7 million at the cockpit in Minglanilla, Cebu, following the operation they conducted.
The same operation led to the arrest of two cockpit operators and 37 personnel after they were caught in the act of livestreaming the cockfight.
"He (Teves) said he will sue my men for stealing PHP7 million at the cockpit. He continues to say he will spare me from the case if I make it negative of any incoming operation against e-sabong," he said.
During last Tuesday's hearing, Degamo's widow, Pamplona mayor Janice Degamo told the committee that aside from perpetrating the murder of her husband and a number of killings in the province, Teves is also involved in the illegal operation of e-sabong and STL.
Meanwhile, Senator Ronald Dela Rosa assured the public that his committee would not be influenced by any propaganda presented by individuals or groups related to the unsolved killings in Negros Oriental.
Speaking at the third marathon hearing concerning the murder of Degamo and eight others last month, Dela Rosa said he and the members of the committee would not be easily swayed and that all resource persons will be given fair treatment.
"This committee will not be influenced by any side. Hindi kami kayang i-sway ng (we can't be swayed) by propaganda. We are after the substance, hindi kami malilinlang (we can't be fooled), we can assure you that," Dela Rosa said.
"'Wag kayong sumuko. Wala tayong pinapanigan, Degamo o Teves man, andito tayo para makamit ang hustisya. (Don't give up. We are not biased, Degamo or Teves, we are here to obtain justice) he added.
This developed as Colen Pepino, the widow of slain broadcaster Rex Cornelio Pepino, testified that not all killings in the province can be attributed to the Teves family, claiming that her husband's killer was allegedly a known associate of the slain governor.
Negros Oriental Rep. Arnolfo Teves, whose whereabout is now unknown, has been tagged as the brains in the killing of Degamo.
Pepino, a reporter for Original Energy 93.7 FM, was killed on May 5, 2020. His wife was with him when he was attacked by a suspect on board a car that was later on found to have been registered with the provincial government's assessor's office.
Mayor Degamo immediately disputed it. She said the Pepino incident was orchestrated by Teves to put the blame on his husband.
The mayor had earlier blamed the Teves family for the number of killings in the province. (Leonel Abasola, PNA)