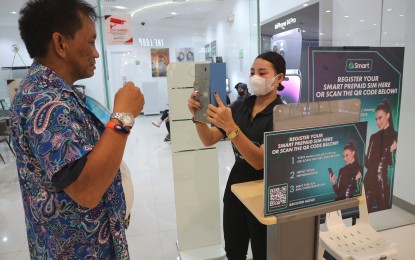 MANILA – Local telecommunications companies on Thursday asked the government anew to extend the deadline for subscriber identity module (SIM) registrations as the deadline on April 26 nears with less than half of all active mobile users in the country registered.
In a statement, Smart Communications Inc. and TNT said around 36.5 million or 55.1 percent of its subscribers have been registered and noted that extending the deadline would help the remaining unregistered users to secure documentary requirements such as government identification (ID).
"At present, all 160 million subscribers in the country are given only 121 days to register. Comparatively, in other countries like Indonesia and India, PTEs were given 1 to 2 years of a registration window to better prepare for and promote SIM registration," PLDT and Smart First VP Cathy Yang said.
To ensure continued registration in remote communities, Smart and TNT vowed to continue working with the Department of Information and Communications Technology (DICT), the National Telecommunications Commission (NTC), and other government institutions to provide "physical assistance" at several sites all over the country.
"Through this initiative, Smart and TNT aim to help those who may need assistance in registering their SIMs, especially senior citizens, persons with disabilities, and those using non-data phones," Yang said.
On the other hand, Globe Group president and CEO Ernest Cu urged its users to comply with the SIM registration process, noting that 33.067 million or 38.23 percent of its 86.5 million customers have so far been registered.
"Pending response to our appeal for the government to extend the deadline, we call on all Globe SIM users to comply with the law," Cu said.
He renewed the call for the extension of the deadline to allow their customers to obtain government IDs -- one of the main reasons why many mobile users remain unregistered.
One solution for the problem, he said, is to allow the use of alternative forms of IDs such as school or work IDs.
"SIMs that remain unregistered by the deadline will be deactivated, preventing customers from using Globe's call, text, and data services. This could severely impact customers who rely on their mobile numbers for authentication in various sensitive transactions, especially banking, and other financial services, and who use mobile phones for day-to-day needs," he said.
On Wednesday, the DICT said there are no plans "at this point" to extend the deadline for SIM registration beyond April 26.
It noted the importance of SIM registration to promote the responsible use of SIMs and provide law enforcement agencies with the necessary tools to crack down on cybercriminals who take advantage of the unrestricted purchase of prepaid SIMs.
To date, the NTC said a total of 75,564,837 SIM cards have so far been registered nationwide, making up 44.97 percent of the 168,016,400 active mobile users in the country as of December 2022. (PNA)