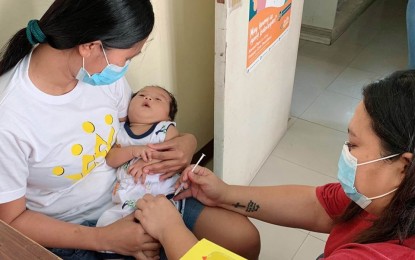 LAOAG CITY – A massive measles and oral polio vaccination campaign targeting nearly one million children in the region is set for May in a bid to protect children from the infectious disease.
Dr. Rogelio Balbag, executive director of the Ilocos Norte Hospital and Management Council, said Thursday that provincial, city, and municipal health workers are now gearing up to assist in the massive and simultaneous vaccination of children from May 1 to 31, to be spearheaded by the Department of Health.
"Some of our health workers are now being trained as vaccinators," he said as he urged parents and communities to support the vaccination teams, particularly in rural areas.
The nationwide measles campaign targets 935,130 children aged 5 years and below wherever possible in the region.
Ilocos Norte already carried out its initial campaign to achieve at least a 95 percent vaccination coverage against measles rubella and oral polio.
The campaign will be implemented through health centers, schools and hospitals, and outreach centers for remote communities.
In 2022, a total of 138 measles cases were reported in the Ilocos region.
Also on Thursday, regional health office information officer Dr. Rheuel Bobis said the cases were attributed to the low coverage of vaccination against measles and the easing of restrictions, particularly on the use of face masks.
Measles is a viral disease that mainly affects children and has no effective treatment but it can be prevented through vaccination before infection.
"If your children have the symptoms, such as fever, rashes, cough, and colds, as well as weak body and loss of appetite, they should be taken immediately to the nearest center or hospital," he said. (PNA)