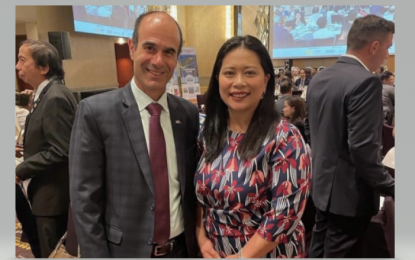 MANILA – The country has invited members of an Israeli business group to look into investment opportunities in Philippine tourism as the sector ramps up efforts to bounce back from the pandemic.
Speaking at the general membership meeting of the Israel Chamber of Commerce of the Philippines (ICCP) on April 19, Tourism Infrastructure and Enterprise Zone Authority (TIEZA) Assistant Chief Operating Officer Karen Mae Sarinas-Baydo said the agency manage existing assets that are open for public-private partnerships (PPP).
Some of the properties under TIEZA she listed are various eco-tourism sites in Balacad, Laoag; Moalboal, Cebu; the Club Intramuros Golf Course in Manila; and the Mt. Data Hotel in Bauko, Mountain Province.
She said TIEZA also offers the Balicasag Island Dive Resort for operation and management for private partners.
"If you have been to Panglao, Balicasag Island Dive Resort is also under TIEZA and that is the center of marine biodiversity in the country," she said.
Sarinas-Baydo stressed that Manila is "open and ready for investment" as she touted that foreign arrivals alone in 2022 has generated USD3.68 billion in tourism receipts and sustained 5.23 million jobs.
"The Philippines is steadily easing into the recovery phase following the Covid-19 pandemic and the Philippine tourism sector continues to be one of the key contributors to the overall economic development of the country," she said.
"With its improving recovery in terms of travel services following the easing of travel restrictions post-pandemic, the tourism sector is expected to go back to its feet in no time," she added.
An attached agency of the Department of Tourism, TIEZA also designates and supervises tourism enterprise zones (TEZ) or vast tracts of land, which are masterplanned to be developed into an "integrated tourism complex".
At Mt. Samat TEZ, Sarinas-Baydo said TIEZA is developing a cable car system in the area with an estimated capital cost of USD30 million as it positions the site as a "world-class heritage tourism destination".
"We hope to connect the locator site that we are developing to the shrine site through a cable car system. So we are looking to develop the first cable car system in the country because we don't have yet that kind of attraction," she said.
Another flagship TEZs is in San Vicente, Palawan, which the executive described as the "Boracay from 50 years ago".
"Probably you know the Nusa Dua in Bali, Cancun in Mexico, or Jeju Island in Korea, we are developing such integrated tourism destinations in the Philippines through the TEZ framework," she said.
Other TEZs are located in Corregidor, Panglao Bay in Bohol and Rizal Park in Manila. (PNA)