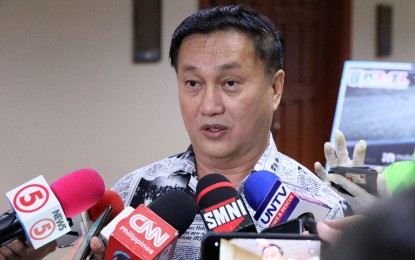 MANILA – Senator Francis Tolentino on Friday said he is determined to push for the postponement of the Barangay and Sangguniang Kabataan Elections (BSKE) in Negros Oriental amid reports of threats and violence in the province after the killing of the late Governor Roel Degamo.
"My purpose here is one, to have a breathing space; two, to really allow the parties to cool off; and three, to have a focus on maintenance of peace and order for the forthcoming barangay elections in Negros Oriental. This was concurred in by several local officials present during the Senate hearings," Tolentino said in an interview aired over ANC's Rundown.
The lawmaker was referring to the hearings conducted by the Senate Committee on Public Order and Dangerous Drugs on the Degamo killing, as well as other political assassinations that recently happened in different parts of the province.
Tolentino however clarified that Negros Oriental is capable to push through with the BSKE but said it is better to take the available precautions.
"It's not really an admission [that Negros Oriental's peace and order situation is unsuitable to the conduct of any elections at this point] but we don't want to take the risk. We don't want to have both parties coming up with something that would later on provide a means to threats and violence, and would later on blame this to the PNP (Philippine National Police), the Army, and even the government," he said.
In response to Tolentino's proposal, the Commission on Elections (Comelec) noted that there are "stringent" requirements under the law to postpone the BSKE, and any other postponement, which can only last for 30 days.
Comelec chairperson George Garcia admitted that the poll body can hold off the BSKE in a certain area.
"Although admittedly, we have the power to postpone the election in an area," Garcia said assuring that Comelec will study the proposal.
Tolentino thinks the said requirements can be complied with and the 30-day postponement of BSKE in Negros Oriental is enough. (PNA)