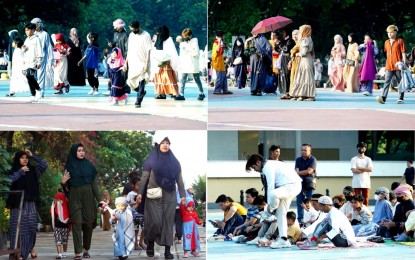 AMANILA – The Philippine National Police (PNP) on Saturday joined the Muslim community in celebrating Eid'l Fitr, saying respect and understanding make the Filipino culture unique.
"Respect and understanding among different faiths are characteristic features of the uniqueness of Filipino culture," the PNP statement said.
The PNP noted that for hundreds of years, the Philippines has lived with the diversity of faiths, ethnicity, and sub-cultures of its people settled in different islands, and yet, its people remain united in spirit as one strong Filipino nation under a democratic republic.
"Sa ating mga kapatid na Muslim sa hanay ng kapulisan (To our Muslim brothers in the PNP ranks), congratulations for successfully completing your month-long dawn-to-sunset fasting of Ramadan. You have made it despite your everyday duties as a police officer," the statement said.
"May God Almighty continue to shower us with His Blessings! Peace be with you. Eid Mubarak."
The men and women of the Office of the Presidential Adviser on Peace, Reconciliation and Unity (OPAPRU) likewise expressed unity with the Muslim "ummah" (community) across the globe as they celebrate Eid'l Fitr.
"As the Holy Month of Ramadan comes to a close, may we all reflect on the important lessons that this occasion has taught all of us and apply them in our peace-building and development work," OPAPRU acting chief Secretary Isidro L. Purisima said in a separate statement.
He pointed out that Ramadan teaches the value of patience, sacrifice, and charity and the need to practice each day in all undertakings.
"May this year's Ramadan inspire all Filipinos – regardless of tribe, religion, or belief – to work together to promote the culture of peace, mutual understanding, and solidarity throughout the country and beyond," Purisima said.
"In chapter 2, verse 185 of the Holy Quran, the Almighty Allah says: 'You must complete the quantity (of days) in order to thank God for leading you and be thankful.' A happy and blessed Eid Mubarak to our Muslim brothers and sisters!" (With reports from Priam F. Nepomuceno/PNA)