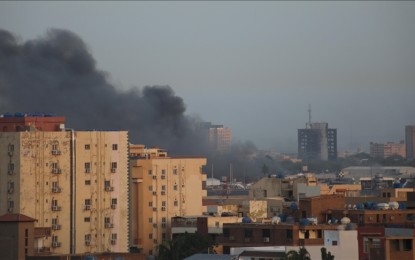 GENEVA – The World Health Organization (WHO) said Friday that 413 people have died in the continued conflict in Sudan, and children are paying a high price, with at least nine reportedly killed in the fighting and more than 50 badly injured.

WHO spokesperson Margaret told a UN press conference that according to figures from the government in Sudan, 413 people have died and 3,551 injured in the conflict.
The fighting is part of ongoing clashes between the country's army and the paramilitary Rapid Support Forces (RSF).
There had been 11 verified attacks on health facilities, including 10 since April 15, she said.
"According to the Ministry of Health in Sudan, the number of health facilities that have stopped working is 20. And also, according to Ministry of Health numbers, the number of health facilities at risk of stopping is 12," said Harris.
This means, she added, all those people who need care, not only those who have been injured but also those who need treatment before and continuing treatments, are impacted.
At the same press conference, UNICEF spokesperson James Elder said clearly the fighting takes a devastating toll on children.
"We now have reports of at least nine children killed and at least 50 injured. Those numbers will continue to rise as long as fighting continues," he said.
Elder also said large numbers of people are trapped and do not have access to electricity.
"They're terrified of running out of food, water, and medicines," he said.

"One of our grave concerns is around hospitals that have come under fire."
Elder said Sudan already had one of the world's highest malnutrition rates among children.
"And we've now got a situation where critical life-saving support for around 50,000 children is at risk," said the UNICEF spokesperson.
Sudan has been without a functioning government since October 2021, when the military dismissed Prime Minister Abdalla Hamdok's transitional government and declared a state of emergency in what political forces called a "coup." (Anadolu)