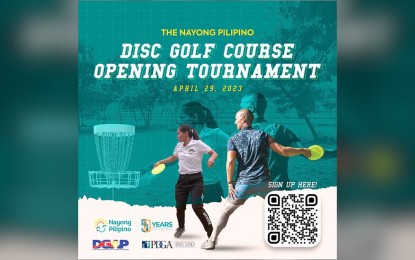 MANILA – The first-ever Disc Golf Course in Metro Manila is set to open at the Nayong Pilipino on April 29.
The Nayong Pilipino Foundation (NPF), in partnership with the Disc Golf Association of the Philippines, will officially launch the disc golf course with an inaugural tournament, to be participated in by at least 40 professional disc golf players from different parts of the Philippines.
Disc golf, also known as Frisbee golf, is a professional, highly competitive sport with one of the fastest-growing, most dedicated fan and player communities in the world.
It is played much like traditional golf but instead of a ball and clubs, players use a flying disc or Frisbee.
The trees, shrubs, and terrain changes located in and around the fairways provide challenging obstacles for the golfer.
In a news release issued on Saturday, NPF Executive Director Gertie Duran-Batocabe said the agency hopes that the opening of the new sports attraction would spark new interest in emerging sports.
She also disclosed that the agency aims to host an international disc golf tournament within the year, in partnership with the Professional Disc Golf Association.
"This furthers our goal of promoting sports tourism in support of our mother agency, the Department of Tourism as many foreign and domestic visitors will be flying in to participate and/or watch tournaments," Duran-Batocabe said.
Disc Golf is for everyone as it can be played from school age to the golden age.
It is also a healthy, inexpensive, recreational activity that provides upper and lower body conditioning, aerobic exercise, and mental stimulation. (PNA)